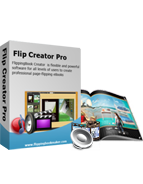 $299

Bluetear Theme Templates
The theme Bluetear provides marvellous looks and feel
Bluetear contains 3 frameworks full of blue color make your flipping papers attractive.
All the functions built-in meets all the reading requirements completely.
All the output types cover amost all the ways to publish and issue.

Free Trial
View Demo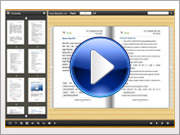 Take a Video Tour>>


FlippingBook Bluetear Theme for FlipBook Creator Professional
Bluetear is a theme belongs to Neat pattern which allows flipbook creating much easier for its all-in-one aspects of a digital flipping book. The mysterious panel of background will enhance the winsome reading. When open the flipping book generated by the theme of Bluetear, you would feel fresh and comfortable. It seems that you breathe the fresh air or enjoy a delicious dinner while the flash flipbook performing. Bluetear is applied to flippagemaker.com series of software impress many readers for its simple and user-friendly interface and powerful widgets. People prefer to explore deeper read for the amazing its manifestation. To avoid visual fatigue, Bluetear offer you 3 different templates for choose. 
How to install Themes for FlipBook Creator (Pro)?
Bluetear Theme Screenshot