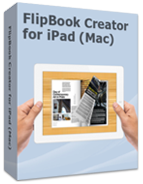 $79

FlipBook Creator for iPad (Mac) V 1.3.2
Convert PDF files into high-quality Flip Books for the iPad
FlipBook Creator for iPad (Mac)
ought to be installed on your Mac computer and it produces flipping books for iPad. It is an easiest way specific for Mac computers to convert PDF files to flash flip papers in the form of HTML5 and executable app.
FlipBook Creator for iPad (Mac)
specializes in building flash page-flip books for your iPad. The output HTML5 flipbook can be viewed on within any local area network only if enter the right IP address on safari browsers. Also you can upload it on website for the entire World Wide Web. Another output type is APP specific for Mac computer without any assistant software.
Version Number: 1.3.2
Platforms: Mac OS 10.5.5 or above, not for PowerPC .
Looking for the Windows version : FlipBook Creator for iPad Windows OS .

Free Trial
Buy Now
View Demo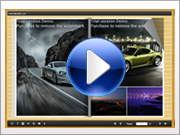 Take a Video Tour>>


Why Use?
Features
Screenshot
How It Works
Simple to Operate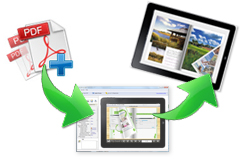 FlipBook Creator for iPad (Mac) is extremely simple to operate – all the settings can be immediately captured on the preview window. All aspects of a flash flipping book can all be configured by the extensive options. You could hard find flipping software can be more user-friendly than FlipBook Creator for iPad (Mac). It's that easy!
Import a PDF
Edit and review Settings
Export your Flip Book
Real-time Preview
Any change by settings can all be displayed on the preview window. If you are to make a different iPad, you can make full use of the built-in options to edit the look & feel of the HTML5 flipbook of iPad and preview the changes on the right real-time window. Any actions includes hide/show function buttons, change color, replace logo, etc can be shown in real time.
Free Templates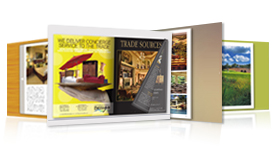 We provide free templates in order to help quickly complete a HTML5 flipping book. The templates are editable so that you can reedit them if you just have the better creative. All aspects of the templates are opened up for you fine-tune with our all-sided configuration options. You must the biggest beneficiaries if you start use them now.
Perfectly flipping book on iPad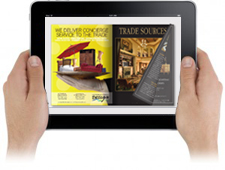 A perfect flipping book lies down on iPad screen. Its Apple style look so natural sets the HTML5 iPad flipbook itself off to advantage. The fluent flipping alimentation is triggered by your fingers. From any point, it will react instantly when you touch it slightly. These smart flipping books just created by FlipBook Creator for iPad (Mac).
Support 3 ways to "Flip" pages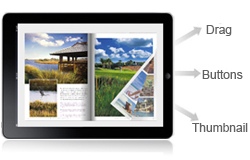 Your users will be able to turn pages 3 ways:

Drag the page corner to turn the page.
Turn pages by using Previous and Next buttons.
Move from page to page by using Thumbnails.
Support flipbook reading Online or Offline
The 2 output types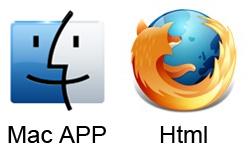 FlipBook Creator for iPad allows you to create and distribute your Flip Book in one of 2 ways
HTML: Which can be uploaded to a server as webpage for browsing, even you can visit it though local area network.
APP file: Which can be shared via email.
Share instantly via all of the major social networks.
I FlipBook Creator for iPad Mac version Features
1 Convert PDFs to HTML5 compliant Flip Book speciafic for iPad.
2 Supports custom PDF page range import.
3 Rapid deployment with pre-configured templates.
4 Real-time Preview.
5 Add your own logo to each document and add a hyperlink.
6 Customizable title and descriptions.
7 Control the colors of all elements.
8 The IP adress will be shown on preview address bar.

II iPad flipping book features
How the iPad flipping book display on iPad
1 Drag page corner to flip over.
2 The shortcut buttons allow fingers click on to flip over.
3 Click on left and right arrow to flip over.
4 Show the bottom thumbnails for page turing.
5 Magnify flip page by hit the ZOOM button.
6 Support social networks share.
Here are some screenshots of version 1.0 below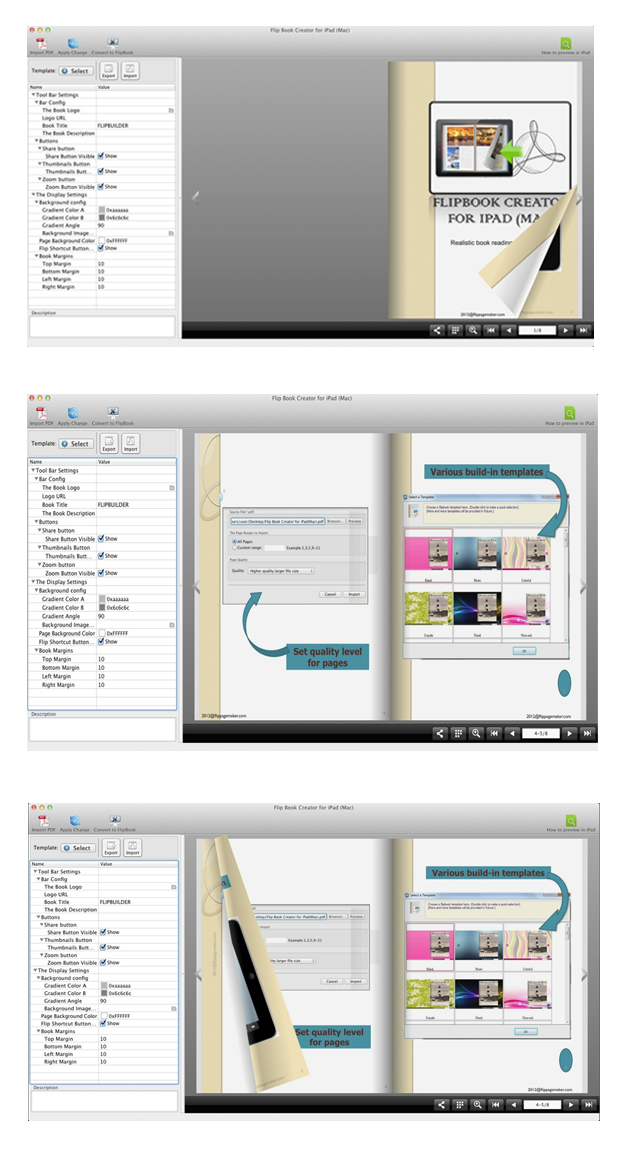 Three steps to create iPad flip book from PDF (FlipBook Creator for iPad)