Can I add music or song for each separate story in my flash flipping book?
Many people ask me can I insert separate audios for each story page. They narrate they have many different stories combined in PDFs which they want to convert them to interesting flipbooks, but they require embed graceful music for each story. They or maybe you just find miss right me to answer correctly.
Flip PDF Professional support embedding flash, video, audio, and hyperlinks, etc. Here, we turn to today's keyword: audio. Yes, you can add audio music and songs at any area or page of the PDF flash flipping book with ease. More details please refer to below easy steps:

You can add audios to pages via below easy operations:

1. Start the Flip PDF Professional program, click "Import PDF" icon to open PDF file in the right preview box to start editing.
2. You can define template, set book properties, tool bar buttons and fonts, etc, finally click the icon "Apply Change" (after setup settings, you must click this button or all the settings will be invalid) after settings.
3. Click "Edit Pages" icon on top menu to enter into page editing interface, just click "Insert->Sound", then press on the left key of your mouse to circle an inserting box on any area of any pages you want to embed audio music. Click button "Select Sound" to select MP3 file and finally we start to define when to play and stop the audio.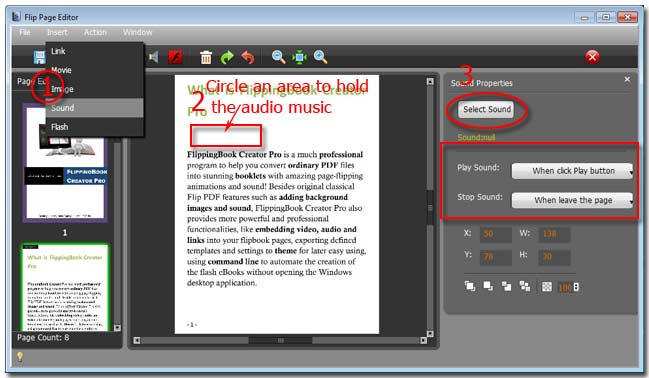 4. On left-up corner, click "File--> Save And Exit".
5. Click "Convert To Flipping Book" to choose the output type as HTML, ZIP or EXE, also you can burn the different type flipbooks to CD/DVD.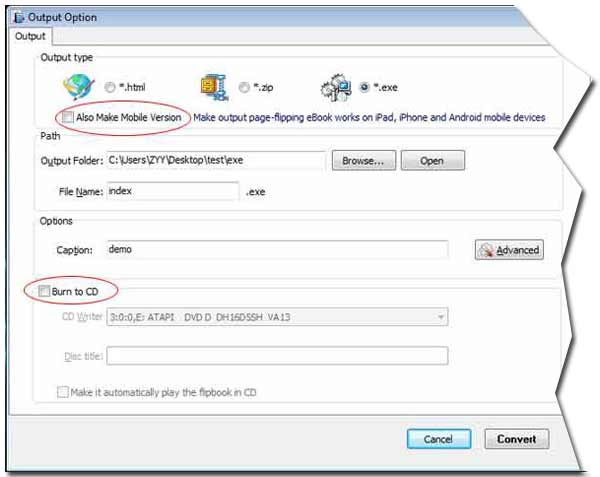 You're also being allowed to embed flashes (format: FLV and SWF), video movies and hyperlinks into flipbook pages.
Stare to enjoy this wonderful software now! Free download the trial version to have a try first.