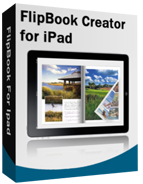 $79

FlipBook Creator for iPad V 1.5.4
Convert PDF files into high-quality Flip Books for the iPad
Convert PDF to flipping book specific display on iPad (any browsers either computer or mobile only if they support CSS3, they can visit the iPad flipbook).
Restrict page range to import, control output quality & size.
Import links, table of content and searching text orient from your PDF.
A great deal of templates all free for you to build flipbook more rapidly.
Hundreds of settings fully custom the feel&look of your flipbooks.
Support visit at LAN (Local area network) or Internet.
Support Google Analytics traffic monitoring.
2 output types: HTML for web, Zip for share by email.
Once purchased, unlimited conversions without paying royalties and additional fees.
Version Number: 1.3.8 (Support

Search

)
Platforms: Windows 7, Windows Vista, Windows XP.
Free TrialBuy Now View Demo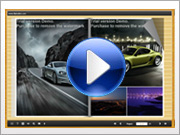 Take a Video Tour>>


Why Use?
Features
Screenshot
How It Works
FlipBook Creator for iPad is the best application to convert common PDF files to flipping books on your Window OS computer and display on iPad (IOS) or any other browsers either runs on computer or mobile only if they support CSS3. That is to say, FlipBook Creator for iPad can build HTML5 iPad book compatible almost all the browsers. The user-friendly program interface enables you to build iPad book more easily even you are not a specialist of computer. Simple 1,2,3 steps, you can get perfect flipping books which can be viewed at local area network or Internet (Upload on your host).

Friendly User Interface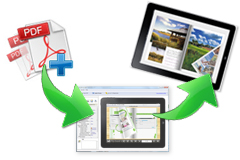 Friendly User Interface
FlipBook Creator for iPad, is incredibly simple – yet incredibly powerful.
Settings are intuitive but allow complete control over all aspects of your Flip Book.
Import a PDF
Edit and review Settings
Export your Flip Book
It's that easy!
Real-time Preview
FlipBook Creator for iPad lets you see your changes in real time. You can adjust background and button colors, hide buttons, change logos, control how zooming works, and much, much more!
Free Templates
We provide free templates – which allow you to get you started with your Flip Book project immediately. These templates are preconfigured so you can immediately produce professional quality Flip Books, but also allow you to fine-tune your Flip Book with our extensive configuration tools.
.
Perfect flipping book on iPad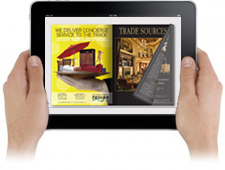 The flipping papers perform very perfectly for its smooth flipping process and loading speed. The Apple style of buttons will enhance the wonderful flipping presenting.
Support 3 ways to "Flip" pages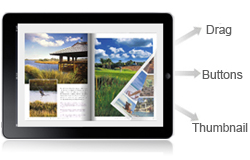 Your users will be able to turn pages 3 ways:

Drag the page corner to turn the page.
Turn pages by using Previous and Next buttons.
Move from page to page by using Thumbnails.
Support flipbook reading Online
The 2 output types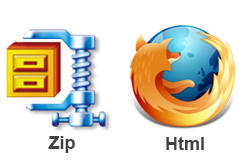 FlipBook Creator for iPad allows you to create and distribute your Flip Book in one of 2 ways
HTML: Which can be uploaded to a server as webpage for browsing.
ZIP file: Which can be shared via email.
Share instantly via all of the major social networks.
I FlipBook Creator for iPad Features
1 Convert PDFs to HTML5-compatible (any browsers support CSS3) Flip Book for iPad.
2 Custom PDF page range to import.
3 Lots of preset template all free for you.
4 Preview window show any tiny change you made instantly.
5 Print logo, make table of content for your iPad flipbook.
6 Write title and desciption for your flipbook.
7 Control all aspects of the book including those features search, bookmark, zoom, thumbnail, social share, book margin, auto flip, background, etc.
8 Support preview at local area network or Internet.
9 Support hard or soft book cover.
10. Google Analytics is available.

II iPad flipping book features
How the iPad flipping book display on iPad
1 Drag and drop page corners to flip over.
2 The shortcut buttons allow fingers click on to flip over.
3 Click on left and right arrow to flip over.
4 Show the bottom thumbnails for page turing.
5 Magnify flip page by hit the ZOOM button.
6 Support social networks share.
7 Search keywords to reach to the content more quickly.
Here are some screenshots of version 1.0 below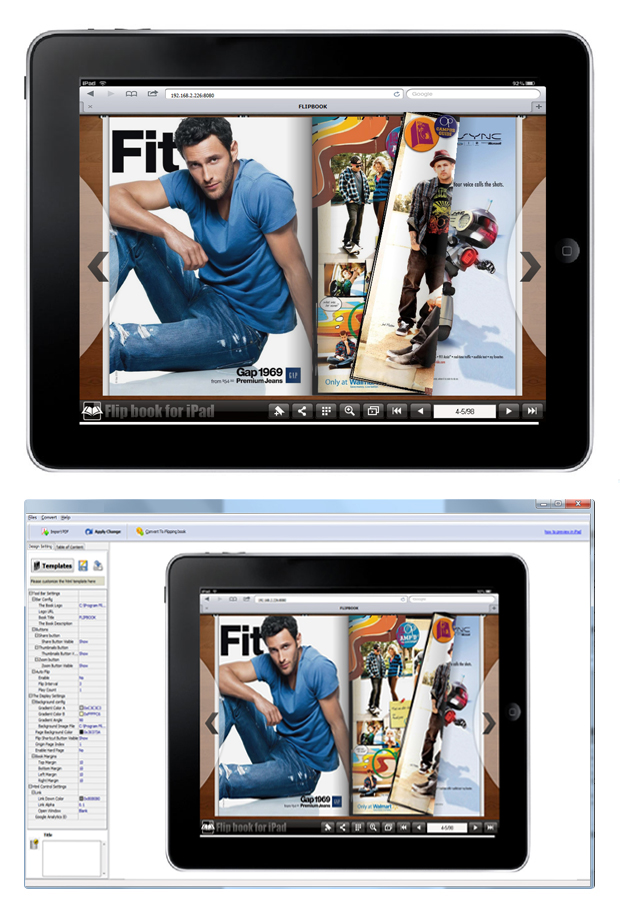 Three steps to create iPad flip book from PDF (FlipBook Creator for iPad)