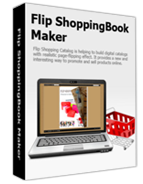 $328.00

Flip ShoppingBook Maker
All-In-One Catalog flipper for publishing products list
Bound up PDF pages as mature folio catalog with shopping labels annotating.
The shopping marks can be static or dynamic direct to product or purchase pages.
Video, flash, YouTube, audio, etc multiple media can be embedded on flip pages.
The built-in templates are editable, you can customize flip catalog with individual style.
Bookmark function catalogue your catalog for users' convenience.
Google Analytics analyze visits data to improve your website.
Multi-lingual for people from all over the world reading.
HTML flip can be viewed on Windows, MAC mobile (iPhone, iPad and Android).
Out types html, zip, exe, app (MAC) support email, USB, CD/DVD storage or distribute.
Unlimited conversions without paying royalties.
Version Number1.1.0
Free Trial
Buy Now
View Demo
Take a Video Tour>>


Why Use?
Features
Screenshot
How It Works
Flip ShoppingBook Maker specializes in making outstanding digital catalogs with page-flipping effect which will effectively increase your sales of networking. The creative shopping guide is labeled by us professional shopping tips button, image or flash animations offering the entrance of products info and purchase way. And enables you embed video, audio, online YouTube etc as media promotion. As it makes you win much praise and trust from clients' feedback easily realizes set up a professional image for your shop or company.

Popular Labels as Shopping Guidance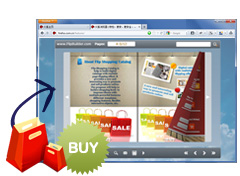 Shopping labels are popular in the industry of digital catalog. A success and excellent page-flip catalog requires professional labels annotate and then it can be called effective guidance for perspective clients. The proper labels placed on flipping pages can effectively lead to where customers place orders or learn more about products.
iPhone, iPad and Android HTML Flipping Shopping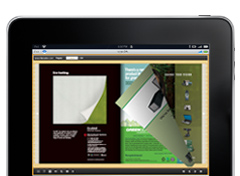 It is really incredible we can browse flipping catalog on iPhone, iPad and Android. Actually we used to flip PDF flipping book or online purchase. As the development of talent Smartphone, mobile internet almost can realize all the functions that Windows and MAC can. Flip ShoppingBook Maker meets your mobile marketing extension. Sell your product on mobile.
Video, Audio, Photo Slideshow Advertisements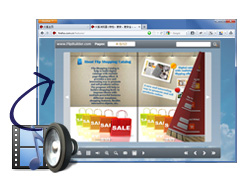 Put product features film on flipping shopping pages will increase your fans. Making full use of influence from the modern Medias, you will obtain much unexpected attentions. Flip ShoppingBook Maker embed YouTube (online video), local video, audio flash, movie, etc in flip catalog award marks to unique special flipping shopping catalog.
Intelligent Media Modules for Shopping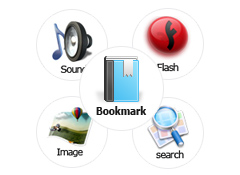 A wonderful flipping catalog with the open-and-shut catalogue created by Bookmark function.
Support text search, you can find the target product base on keyword rapidly.
Replace the default us logo with your company or shop logo set up professional image.
Cool flash cartoon and very beautiful music build perfect online or offline reading experience.
Primary Fliping Shop Catalog Settings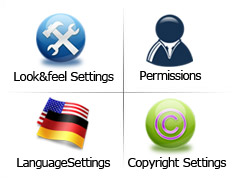 Look&feel Settings : Change the navigation toolbar colors, change the FlipBook themes, set background color and image and more.
Permissions: Add password to protect your flipping book; Set permissions for downloading, printing, sharing, Home button and more.
LanguageSettings: Define your language for FlipBook.
Copyright Settings : Add watermarks text, image, dynamic date/ time etc to FlipBook. Define ebook titles, keywords and other metadata.
Pre-set FlipBook Themes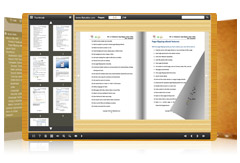 Supply endless templates for free. You can design your own style of themes basing on preset options such as hard cove , colors, backgrounds color and image, sounds and FlipBook page size for better displaying. All the templates are editable.
Deliver FlipBook Everywhere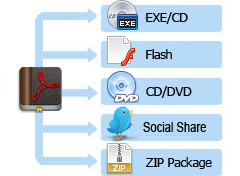 All the flash flipping shopping catalogs can output in any forms below::
HTML for Windows or Apple MAC online or offline webpages viewing.
EXE: Wndows executable file with no need of assistant software support.
Build flipping catalogs to CD/DVD distributing offline.
ZIP (compressed file) for email, USB, etc portable devices.
Upload on websites for mobile devices browsing online (iPhone, iPad, and Android).
Measure advertising ROI with the Google Analytics
Google Analytics Integrated features coming with this FlipBook Creator:

If you have a Google Analytics account, you can make use of FlipBook Creator's built-in functionality Google Analytics Embedding. Once enter your account ID in the publishing flip book, you can monitor and analyze visual statistic graph from flipping book webpages in your Google Analytics interface, simultaneously integrate and calculate advertising ROI or tract traffic information.
Product Features
Introduce a plenty of Shopping labels to annotate products listed on flipping catalog pages.
1. Support publish PDF flipping shopping catalogs for e-commerce.
2. Deliver output in 4 different formats: HTML, EXE, APP (MAC), Zip and Burn to CD.
2.1 HTML allows you to upload to a website to be viewed online.
2.2 EXE is executable file runs on Windows with no need of other support software.
2.3 APP fit run on MAC without any other assistant software support.
2.4 ZIP for sending email among people.
2.5 Burn to CD/DVD allows you to burn to disk so you can send your user physical media for viewing on their computer.
3. Choose multiple template (build-in pre-set themes) for output FlipBook.
4. Extract PDF bookmarks (outline) and can edit the bookmarks manually .
5. Export hyperlinks from PDF, include web link, page link, email link to output FlipBook.
6. Extract full text from PDF and can be used to enable full-text search in your FlipBook.
7. Make online publications for mobile devices (iPhone, iPad, and Android devices).
8. Build-in Google Analytics Integrate Support.
9. Set password to protect your page flipping book.
10. Add Different types of watermarks (text, image, dynamic date/ time etc) to page-flipping ebooks.
11. Define Hard Cover for page flipping book..
12. International multi-language editions for published book.
13. Define page-flipping auto-play time manually.
14. Set background sound, always play or define times.
15. Save and Load your project for future uses.
16..Customize toolbar buttons to set permissions for downloading, printing, sharing, Home button and more.
17. Define titles, keywords and other metadata for published book.
18. Define open ebook with bookmark panel shown in left or right side.
19. Define titles, icon, window size for EXE page-flipping ebooks.
20. .Export and save settings for future uses.
21. Preview the flip book look&feel effect instantly.
22. .Set open window for link pages.
23. Set scale value for zoom-in function.
24. Create Digital Flash Flipbooks with embed video, audio, flash and links
25. Command line to automate the creation of the page flipping eBooks

Output Flash Flipping Book Features
With the flash flipping book you have created, your user will be able to:
1. Drag the page corner to flip a page.
2. Click page shadows arrow to flip a page.
3. Input password to unlock encrypted pages.
4. View with pre-loading needed pages to open quickly, do not need to wait all pages loaded.
5. Use button to control page, such as Previous, Next, First, Last etc.
6. Auto-Play Flip pages.
7. Auto-Play flipbook repeatedly.
8. Full screen mode to view page-flipping ebook.
9. Use page thumbnail to navigate flip pages.
10. Full text search in whole eBook.
11. Print out the whole flash flip ebook or a range of pages directly.
12. Download the uploaded page-flipping eBook from web site directly.
13. Double-click to zoom in or zoom out.
14. Zoom in/ out both pages.
15. Share eBook url via email.
16. Open or close page-turning sound.
17. Open to a certain page in Browser by adding a suffix like this: index.html?pageIndex=4.
18. View output page-flipping eBook on iPad, iPhone and Android devices.
Here are some screenshots of version 1.0.0 Flip ShoppingBook Maker below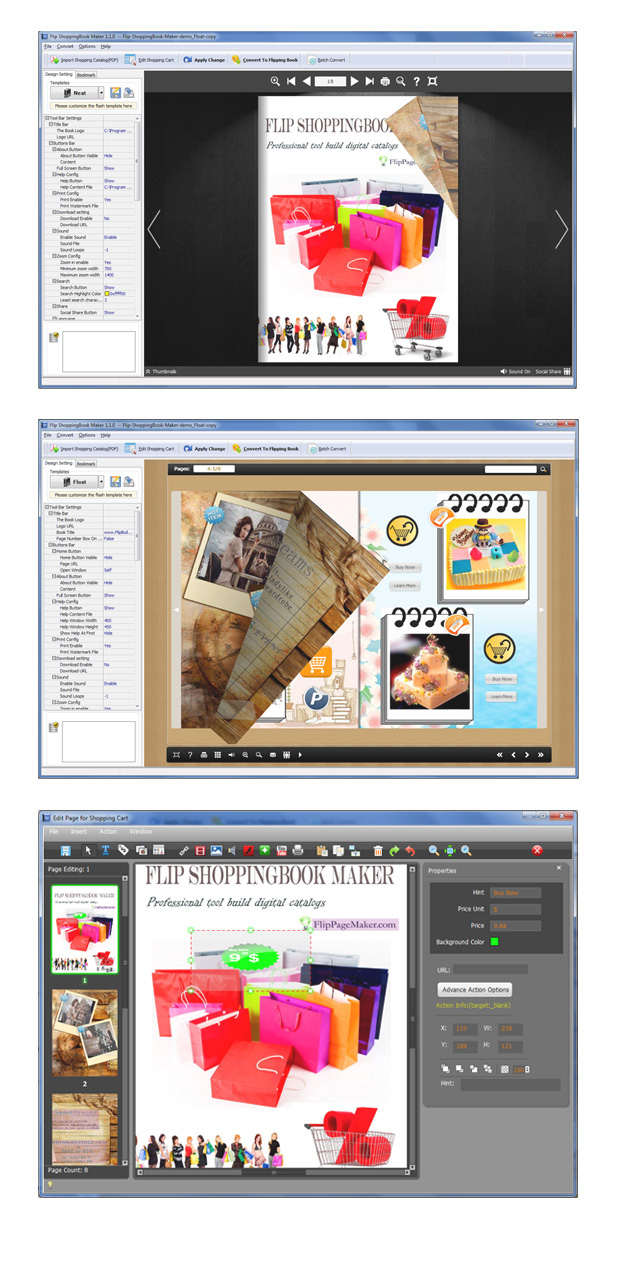 Four steps to create flash page flip shopping catalog (Flip ShoppingBook Maker)