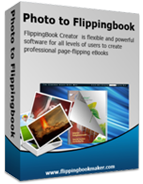 $69

Photo to FlipBook
Convert Photo Collections to Realistic Photo Album
Powerful tools to convert Photos to stunning online photo albums.
Customize look and feel using represented themes.
Create realistic flash photo albums in less than 10 minutes.

Unlimited

conversions

without paying royalties.

Free Trial
Buy Now
View Demo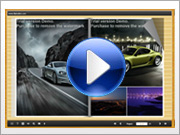 Take a Video Tour>>


Why Use?
Features
Screenshot
How It Works
Photo to FlipBook is a Photo to flash page flipping albums converter software that enables you to create stunning online photo albums from your photo collections. With Photo to FlipBook, you can create cool online photo albums less than 5 minutes, and you don't need any flash skills, only import your photos, and then choose the theme(look&feel) templates from a variety of pre-set of Photo to FlipBook, finally to build your realistic photo album with the real page turning effect.
Digital photo Art Gallery or Album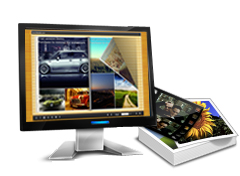 You can make your digital photos or any other type's images into art gallery or family Album. Every page can be pasted one photo or more because Photo to FlipBook provides rich layout structures. Diverse special style frames enables you to adorn pages. Rotating photos' angle, adjusting displaying quality, page size, photo margin, frame opacity, color, etc all of this settings allows you to forge a perfect Album or gallery. Also you can design the output effect such as background music, menu tool bar, zoom in/out, security, auto flip, etc. After all the designing work, you can publish it online, share with friends by email, CD/DVD, etc.
Rapid Photo FlipBook Creation
Turn photo collections into professional online flash page flipping photo magazine with real page turning effect, gives the readers a sense of familiarity and ease. Build your interactive flipping photo book for both online and offline use in minutes
Share your photo albums with users of almost every device. Along with Mac Os, Linux, and Windows.
Powerful FlipBook Settings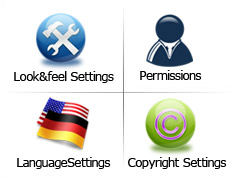 Look&feel Settings : Change the Negative toolbar colors, change the FlipBook themes, set background color and image and more.
Permissions: Add password to protect your flipping photo album book; Set permissions for downloading, printing, sharing, Home button and more.
LanguageSettings: Define your language for photo album book.
Pre-set FlipBook Themes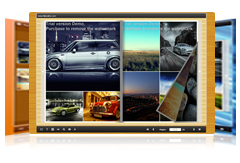 Grab readers' attention with professionally designed themes. Design your own themes with built-in setting features such as hard cove , colors, backgrounds color and image, sounds and FlipBook page size for better displaying. You can choose one of the themes represented in the program. All themes are created by professional designers and represent your photos in gorgeous settings.
Deliver FlipBook Everywhere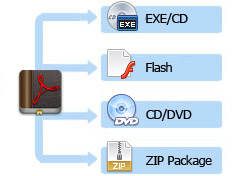 The output flash flipping photo album can be exported with following options:
Publish flipping photo album as stand-alone EXE for CD delivery
Create online flipping photo album for websites as Flash (SWF)
Create offline flipping photo album publications for CD/DVD
Produce ZIP Package and email to your customers
Measure advertising ROI with the Google Analytics
Google Analytics Integrated features coming with this FlipBook Creator:

If you have a Google Analytics account, you can make use of FlipBook Creator's built-in functionality Google Analytics Embedding. Once enter your account ID in the publishing flip book, you can monitor and analyze visual statistic graph from flipping book webpages in your Google Analytics interface, simultaneously integrate and calculate advertising ROI or tract traffic information.
Product Features
1. Support Batch Convert Photo to Adobe Flash based photo album with the real page turning effect.
2. Deliver output in 4 different formats: HTML, EXE, Zip and Burn to CD.
2.1 HTML allows you to upload to a website to be viewed online.
2.2 EXE and Zip allow you to send to your user by email to be viewed on their computer.
2.3 Burn to CD allows you to burn to disk so you can send your user physical media for viewing on their computer.
3. Choose multiple template (build-in pre-set themes) for output flipping photo album .
4. Make online publications for mobile devices (iPhone, iPad, and Android devices).
5. Set password to protect your page flipping photo album.
6. Define Hard Cover for page flipping photo album.
7. International multi-language editions for published flipping photo album.
8. Define page-flipping auto-play time manually.
9. Set background sound, always play or define times.
10. Save and Load your project for future uses.
11..Customize toolbar buttons to set permissions for downloading, printing, sharing, Home button and more.
12. Define titles, icon, window size for EXE page-flipping ebooks.
13 .Export and save settings for future uses.
14. Preview the flip book look&feel effect instantly.
15. .Set open window for link pages.
16. Set scale value for zoom-in function.

Output Flash Flipping Book Features
With the flash flipping book you have created, your user will be able to:
1. Drag the page corner to flip a page.
2. Click page shadows arrow to flip a page.
3. Input password to unlock encrypted pages.
4. View with pre-loading needed pages to open quickly, do not need to wait all pages loaded.
5. Use button to control page, such as Previous, Next, First, Last etc.
6. Auto-Play Flip pages.
7. Auto-Play flipbook repeatedly.
8. full screen modeto view page-flipping ebook.
9. Use page thumbnail to navigate flip pages.
10. Full text search in whole eBook.
11. Print out the whole flash flip ebook or a range of pages directly.
12. Download the uploaded page-flipping eBook from web site directly.
13. Double-click to zoom in or zoom out.
14. Zoom in/ out both pages.
15. Share eBook url via email.
16. Open or close page-turning sound.
17. Open to a certain page in Browser by adding a suffix like this: index.html?pageIndex=4.
18. View output page-flipping eBook on iPad, iPhone and Android devices.
Here are some screenshots of version 2.0 below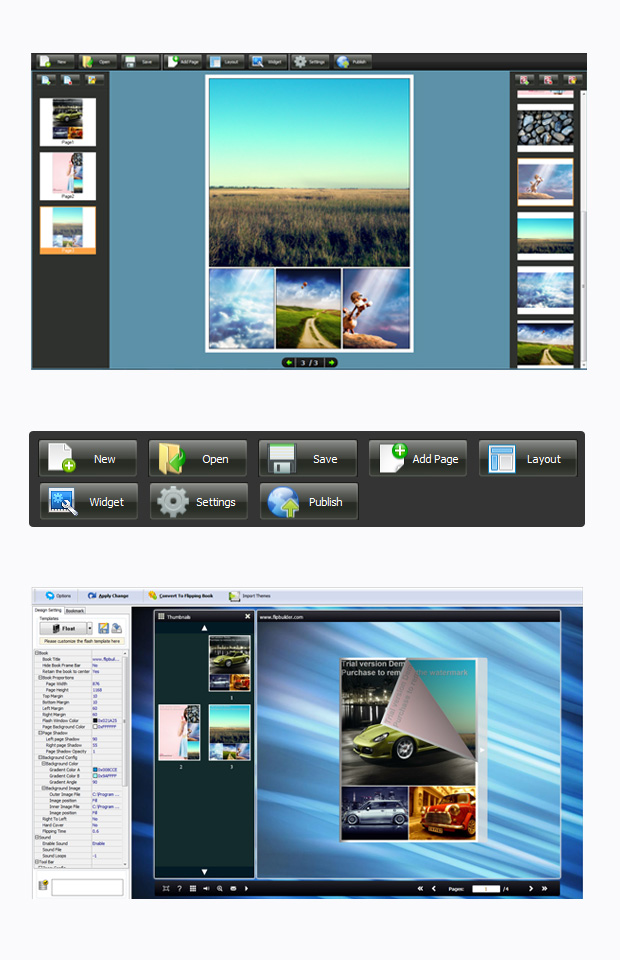 Three steps to create flash flip album from Photo (Photo to FlipBook)