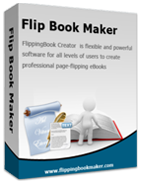 freeware

TXT to FlipBook Creator
freeware
Convert TXT Document to flipping pages
TXT to FlipBook Creator professional flipping pages free publisher.
Totally customize style of page flip eBook with the interactive options.
TXT files can be converted to page turn books for digital book websites.
The flash flip effect looks nice and amazing beat the competitors.
User-friendly effect preview function facilitates perfect user experience.
Multiple output ranges HTML (Webpages), ZIP (email), EXE (Windows), APP (MAC).
Burn to CD/DVD for portable devices transmitting.
Support view on mobile devices (Android, iPhone and iPad).
Unlimited conversions without paying royalties.
Download
TXT to FlipBook Creator is a foolproof generator makes TXT document Flipping horizontally in the form of Adobe flash. Double page sides are unfolded and turned act as a real open book before you. The built-in settings enable you to change flipping styles and any other elements such as audio, background, on-off, etc.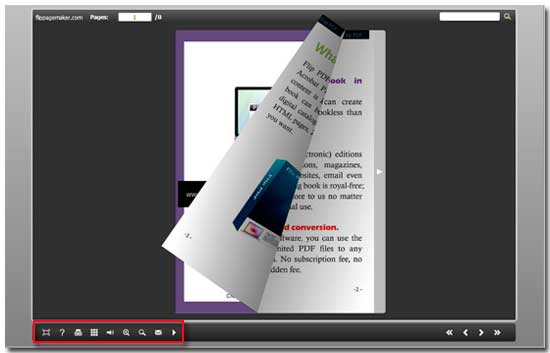 The main thoughtful aspects for readers:

1 Search: find any words you want quickly.
2 Print: Print your favorite content on flipping pages.
3 Zoom: resize flipping page to reach to a clear vision.
4 Share: share current flash flipping papers by email with others.
5 Bookmark: let you grasp main ideas of flipping pages easily helps you build good structure easier to understand.
6 Full Screen: make you concentrate on book itself closely.
The output types widely cover Windows, MAC, Mobile (iPhone, iPad and Android).

1 HTML: the combination between webpage and flash for publishing on various websites that publish eBook, magazine, brochure, etc.
2 ZIP: the compressed file format for diverse mail agencies as email enclosures.
3 EXE: executable file with no need of any assistant software, it can display on Windows systems.
4 APP: executable format for MAC without assistant software.
5 Also Make Mobile Version: generate HTML format of flipbook can be viewed on iPhone, iPad and Android devices browsers.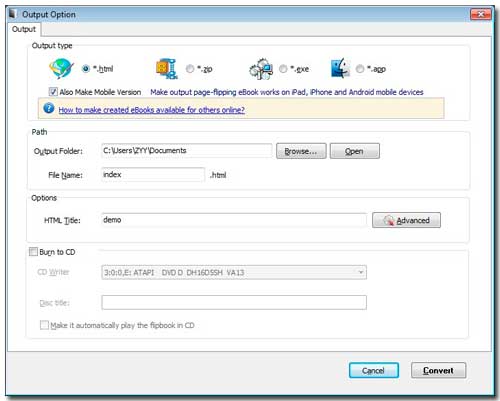 Page Turn Interactive features

The output flipping pages behaves interactive for they are the outcome of digital page flipper with rich artificial intelligence. Only with a mouse, you can complete all the actions e.g. share, download, print, full screen, zoom, search, on-off, etc. Different from traditional folio book, it adopts more digital technologies to make reading more interesting.
Download
Convert PDF to flipping pages even embed multiple medias (Windows and MAC), you would like these software:
FlipBook Creator Professional for MAC