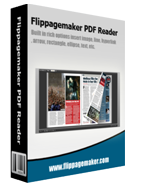 freeware

Flippagemaker PDF Reader
freeware
Give you a fast and full overview of your PDF in the form of flipping books.
Absolutely free charges just import a PDF format file in and then free reading.
Full equipped with functions: help, print, thumbnail, zoom in/out, etc.
The intuitive application interface occupies the whole computer screen ease operations.
Drag and drop to turning PDF flash flipping book pages.
Page index function allows you go ahead to any page easily.
To make flipping book, you would be interested in FlipBook Creator (Pro).
Download
FlipPageMaker PDF Reader is a freeware featuring PDF reader. It is the best reader that fast, lightweight, save & secure and allows you to open PDF, view PDF, and even print any pages of PDF (a printable PDF free reader). Millions of users recommend it for viewing PDF in the form of flipping book with advanced function & features.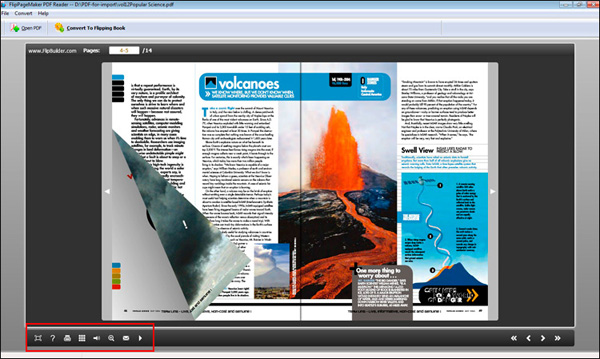 Ease of use & User-friendly

Opening flashflipbook3d PDF reader, the preview window almost account for 90 percent of the whole API. There is a demo lie in the middle center which will be replaced if you import a new PDF file in. Double click any flipping page to zoom in/out to see more clearly. To enter into any page content, you can open the thumbnail part, and click one to select.
Main Function

Flippagemaker PDF Reader is simply a PDF reader better than Adobe Acrabat PDF Rader for it is more lightweight, fast, and intuitive with the flipping book pattern.

PDF pages Printable
There is a function icon listed in the tool bar bottom seems like a printer. Click on it you will open a message box use for configuration of printing range. You can print all the pages or part of them easily if your computer connecting with a printer.
Wonderful reading experience

We are easily tired of something that repetitive every day. It won't be dull any more if you try to change the form of presenting. Flashflipbook3d PDF Reader is just this kind of PDF reader allows you to make the common sliding-down PDF flipping like a real book. How creative it is!
Related Products
FlipBook Creator Professional for MAC