Flippagemaker PDF Editor
freeware
Extremely incredible freeware edit PDF with annotation tools built in.
Built in rich options insert image, line, hyperlink, arrow, rectangle, ellipse, text, etc.
It adds brilliance to the present splendor of current PDF with thoughtful tips.
Additional text and graphic will make the PDF more readable.
Save and open project for repeat use.
To make flipping book, you would be interested in FlipBook Creator (Pro).
Download
FlipPageMaker PDF Editor is unbelievable freeware provides comprehensive solution for PDF editing with powerful settings. There are plenty of options inserting line, arrow, hyperlink, rectangle, ellipse, image, text, etc built in. They make it capable that you make definite annotated PDF.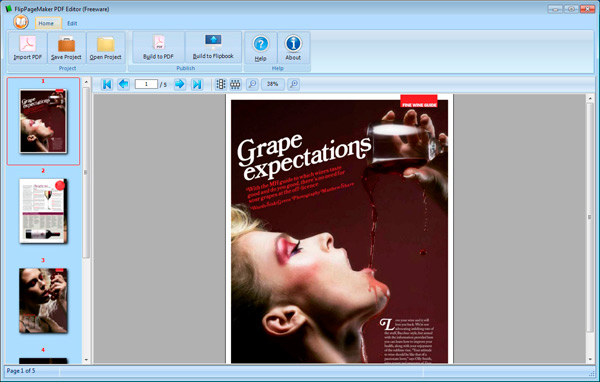 Ease of use

FlipPageMaker PDF Editor is compatible with its intended user's ability to use it easily and successfully. People could build new PDF with graphic and text annotating rapidly with no need of much pre-practice. The result will show in front of you immediately so that you could take action to modify to the best effect.
Main Function

Edit the old PDF with inserting image, hyperlink, rectangle, ellipse, single and multiple line, arrow, text on any paged in the imported PDF and then get a fully new one. The new PDF is a version of reformed will bring into full play on the digital publication industry.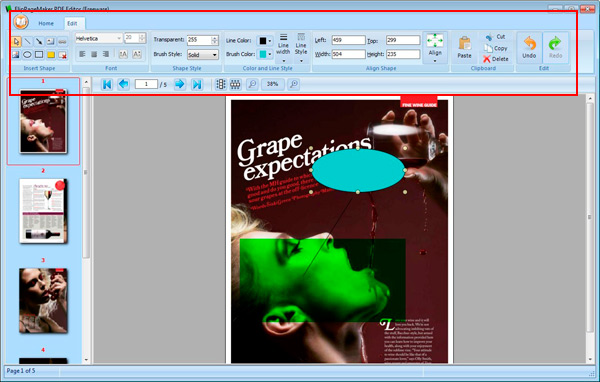 PDF editing tools tab

Insert Shape: Arrow, line, text, hyperlink, image, ellipse, and masking.
Font: dozens of font selections, 3 main align types of text, horizon and vertical test patterns.
Shape Style: object transparent and brush style.
Color and Line Style:  Line and Brush color, line width and style (single or multiple).
Align Shape: left and top edge of PDF page, custom of object width and height.
Clipboard: Cut, Copy, Delete and Paste.
Edit: Undo and Redo.
Save & Open Project file for recycle
FlipPageMaker PDF Editor allows you to save all the changes involve with editing tools of use as project file to continue next time. When it needed, you can open the saved project and pick up where it left last time.  
Related Products
FlipBook Creator Professional for MAC