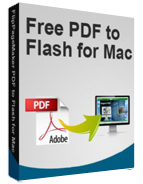 freeware

Flippagemaker PDF to Flash (SWF) for Mac
freeware
100% free to convert PDF to flash (SWF) format;
Maintain origial file contents, including layout, image, text, and hyperlink;
Enable PDF to SWF document to be viewed with Macromedia Flash player;
Use the freeware especially on Mac OS;
Enjoy page flipping effect and have a nice experience;
To make PDF a real page flipping effect, you may be interested in FlipBook Creator Professional.
Download
Flippagemaker Free PDF to Flash (SWF) for Mac is a desktop application that helps you to convert any Adobe PDF document into Macromedia Flash (SWF) on Mac. It is able to produce remarkable online and offline digital editions with page flipping effects. The software provides smart PDF to SWF solution, fast and efficiently to create flash SWF video from PDF document on Mac with original quality. FlipPageMaker developed the Mac version especially for all Mac users. Free PDF to flash (SWF) converter is necessary. Because of that PDF document can be viewed only with Adobe reader. However, it is difficult to share it on Internet just like normal webpage which can be accessed to online. You neither can embed PDF file in existing web page. Now the Flippagemaker Free PDF to Flash (SWF) for Mac is going to solve problems for you.
Why Flippagemaker Free PDF to Flash (SWF) for Mac?
100% free
You may be amazing that the PDF to Flash for Mac converter is free. It works perfectly, offers excellent conversion as some of its paid-for competitors. FlipPageMaker releases this freeware to thank the old and new users.
Several simple steps to achieve conversion
Software provided by FlipPageMaker always has user-friendly interfaces, and PDF to Flash (SWF) for Mac is no exception. It focuses mainly on its converting feature and is able to maintain original layout, text, images, and links of your PDF files. So the free converter does not provide professional functions, it just helps to convert PDF to flash with high quality. Free PDF to Flash for Mac aims to meet basic needs.
Convert PDF to SWF on Mac for viewing on flash player
Convert PDF to SWF flash video formats on Mac for viewing PDF files with flash player, or uploading to internet for sharing with friends. Flash is very popular nowadays. SWF flash book will slide page to page as presentations. It brings better user experience! You can also upload flash (.swf) onto website and share with more people easily. All in all, SWF format enables you to open and share your book in multiple ways.
Related Products
FlipBook Creator Professional for MAC