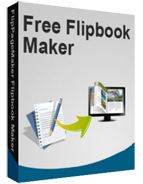 freeware

Flippagemaker Flipbook Maker
freeware
Convert plain Text to stunning flipping book with realistic effect;
Apply free template and theme to quickly achieve outstanding effect;
Customize flash template carefully and complete any details;
Convert a batch of text files into flash page flip book at once;
Add security to the exported file to protect your rights;
Support multiple languages for globalized business;
Output flipping book in HTML format, ZIP format, or EXE format;
Download
Flippagemaker Free Flipbook Maker is developed for plain text file. It is easy to use and powerful flipping book software, allows you to convert text to magazine and flipbook, present your digital document, digital brochure, digital help, and digital data. Enhance your readers impressed by your remarkable digital magazine. Plain text, indicates as its name, contains only plain characters. It will be tedious to read information in text file. Free Flipbook Maker is able to change the situation and make it better. You may know from the freeware name that it is used to create flash page flip effect for the imported file. The attractive effect gives your book 3D impression. Pages could be flipped and viewed as a virtual book on hands. Then what exactly the free flipbook software is able to do? Please refer to the following feature list.
Display flipping book in Float window
The default template in the software is Float template. Float template is the most flexible template as it all flexible features in flipbook. You are allowed to insert inner background image and outer background image. You can also set the background of gradient color simply. Float template is much more helpful on designing gorgeous flipping book.
Enhance flip text with vivid colors
There are only white and black in a text file. Flippagemaker Free Flipbook Maker is powerful on making colorful appearance. It gives you full rights to design each part of the background template. You can fill background with images or colors. You can also change flash window color, page background color, icon color, search highlight color, mouse over color, and all font colors by yourself.
Enable share HTML flipbook online
Obviously, you can't publish text online directly. But after the conversion, text can be output into HTML flash page flip book. It shows as normal webpage and can be open with browser. You can upload the HTML book online and get a specific address to visit it. All people can easily read the book with a networked computer or mobile device. Besides, the software supports ZIP and EXE output type. If you want to share the created digital book to friends via Email, you can choose ZIP output type. If you want to get a flipping book in standalone executive format, you should choose EXE output type.
Batch convert text files to flipbook
The flipbook software enables you to convert a batch of text files into flipping book. To add files by adding folder, adjust order of files with mouse. In the Batch Convert window, you can also define page ranges to import, page quality, and watermark for the imported pages. Advanced setting such as Meta setting can be done too. Three output types including HTML, ZIP, and EXE are provided.
Free Flipbook Maker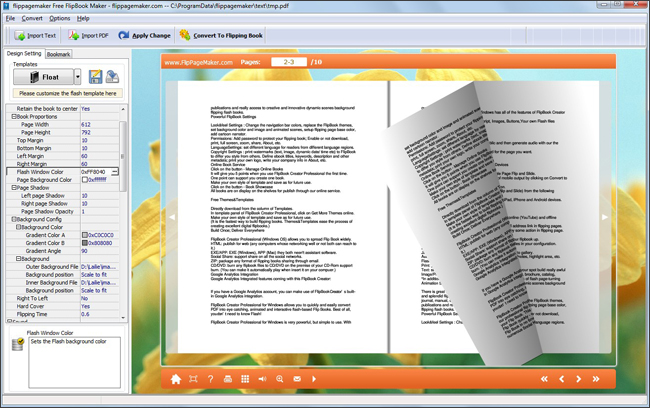 Created flipping book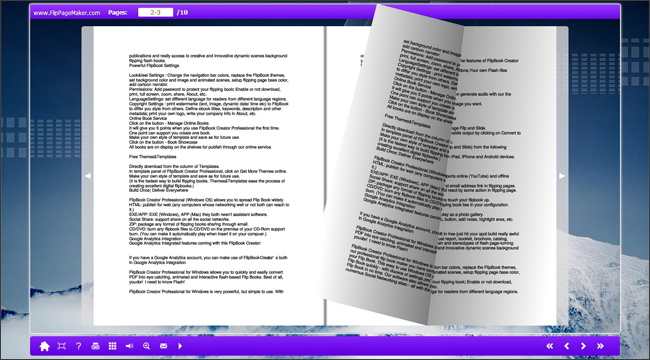 Online templates and themes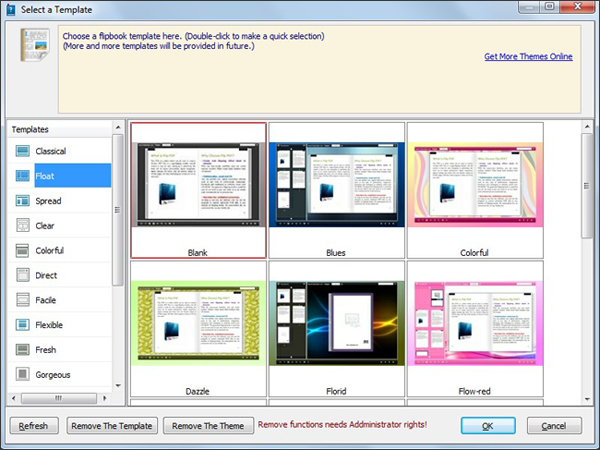 Related Products
FlipBook Creator Professional for MAC