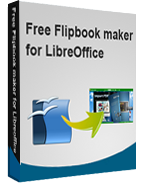 freeware

Flipbook Maker for LibreOffice
freeware
Turn LibreOffice (.odt, .odp, .ods, .odg, .odb) to digital flipbook;
Make Libreoffice an attractive page turning effect;
Export digital flipping book into HTMl, ZIP, and EXE type;
Tailor Float template carefully for your flipbook;
Save template setting list and project;
To make PDF a real page flipping effect, you may be interested in FlipBook Creator Professional.
Download
LibreOffice is a free and open source office suite, developed by The Document Foundation. It is developed from Openoffice.org. You may know well about OpenOffice but never hear about LibreOffice. All in all, they work almost the same but Libreoffice has more advantages. Free Flippagemaker Flipbook Maker for LibreOffice is flippingbook maker for designing LibreOffice into flash page flip magazine. It is free flip page maker that enables you to customize your flip book carefully. This excellent freeware give normal pages stunning flash flip character. You can import any comprehensive LibreOffice document and retain its complete content. Display Libreoffice file online and offline as a real book can give much more joy than only show it simply as normal e-document. Transform imported file into flipping book in html, zip, or exe format are all possible. Now please go ahead know more about its detail features in the following list.
Give common e-document realistic page effect
Flippagemaker Flipbook Maker for LibreOffice makes it easy for you to create realistic flash page-flipping book without any skills. The original document needs to open with LibreOffice suite, and scroll mouse to view page by page. But if you convert it to flipping book, it will bring you amazing experience.
Tailor the flipbook Float template
Float template is flexible template to show features of flipbook. In the left of the window, you can tailor all settings for the template. Generally, you can import background images, insert a piece of background music, and change the book title. These three parts are important as they determine the out looking of flipbook. Of course, to enable features, you need to show and customize buttons in toolbar, such as Auto Flip, Share Button, Home Button, and so on. When necessary, you can set security password for the exported book.
Friendly save settings and project
There are dozens of setting item in the left panel. It will cost you some time to set it one by one. To make it more user-friendly, the free flipbook creator enables you to save the template settings list into text. You can import the text easily for recycle usage. The page turning book can be saved as a project which contains complete contents, including full template and LibreOffice file. You can open project and continue to design it at any time later.
Output LibreOffice to flipbook in multiple formats
Flippagemaker Flipbook Maker for LibreOffice supports three output types. HTML e-book can be published online so that others can access to it easily via Internet. ZIP e-book can share via Email conveniently. And EXE e-book is an executive standalone file which can open directly.
Flippagemaker Flipbook Maker for LibreOffice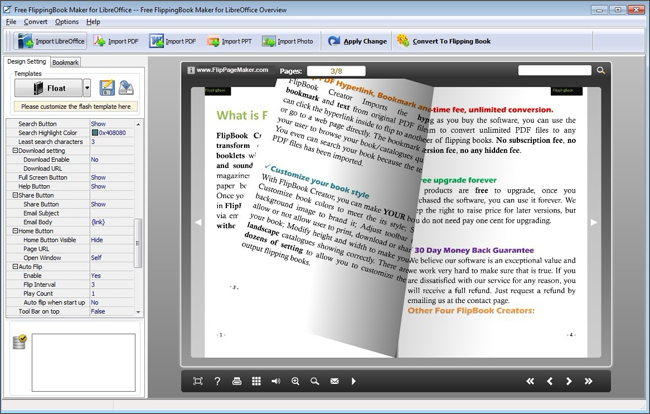 screenshot of Import Window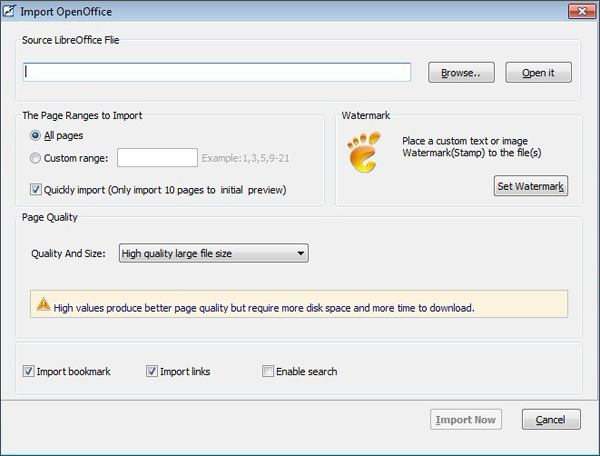 Screenshot of Output Window
Related Products
FlipBook Creator Professional for MAC