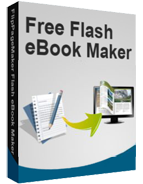 freeware

Flippagemaker Flash eBook Maker
freeware
Make common text document stunning flash effect;
Add beautiful colors to make plain text more eye-catching;
Add security to protect your document;
Apply free templates and themes to quickly create outstanding ebook;
Save current settings as a theme and import for recycle usage;
Create flash ebook in HTML format, ZIP format, or EXE format;
Download
Flippagemaker Free Flash eBook Maker is totally free ebook creator which enables you to quickly convert plain text to flash page flip e-publications. The software allows you to preview the eBook that you create immediately. There are many outstanding features provided, even though it doesn't charge you any penny. To know more about this application, please refer to the following list.
- Some of the features of this free flash ebook converter:
- You can create flash ebooks with this application within few clicks, thus application saves your time and provides professional level page flip effect creation;
- Make your book hard cover edition or soft cover edition;
- There are three levels of security provided to your created ebook – printable or not, downloadable or not, password protection;
- Preview ebook in flash window and make changes immediately; output the book and preview it with browser;
- Save current setting as a project; import and re-edit project;
- Exported current theme for recycle usage; import theme and apply text to flash ebook;
- Support multiple languages so that it is capable to serve globalized business;
- Support batch convert mode to allow turning un-limited number of text file at once;
- Initially show thumbnails or bookmark in the left of flash window to works as navigation;
- Support auto flip mode, enable automatically flipping once the flash ebook is open;
- Show share button in the toolbar and then readers can easily share your book on social platforms such as Facebook;
- Support three output types: HTML, ZIP, and EXE; support burning page flip book onto a CD.
This flash ebook creator provides overall solution for creating impressive ebooks whether for personal use or for distribution purpose. FlipPageMaker doesn't embed any limitation of usage of ebook created by freeware she releases. Many of our users use our freeware for commercial purpose. And they have already achieved great success. So we suggest you to have a free trial of conversion. Reading a flipping book brings much more joys that referring to a plain text. You may be used to save help document and brochure as text (.txt). Now it is your chance to make it more readable. It is able to bring surprise to readers. People will think you are professional and careful once they have sight into your works.
Flash eBook created with Free Flash eBook Maker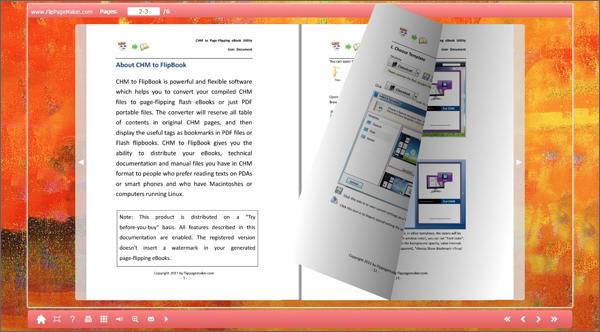 Related Products
FlipBook Creator Professional for MAC