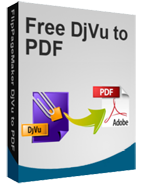 freeware

Flippagemaker DjVu to PDF
freeware
Convert DjVu (.djvu) to Adobe PDF document;
Convert a batch of files at once quickly;
Use command-line to achieve the conversion;
Support Watch Folder Mode and complete conversion automatically when change;
Enable to add watermark, page number, Meta data, security, etc;
Save money as it is 100% free, and save time as you can convert batch file at once;
To make PDF a real page flipping effect, you may be interested in FlipBook Creator Professional.
Download
DjVu is a digital document format with advanced compression technology and high performance value. But as this format is not widely distributed, many users prefer to convert it to a common format such as Adobe PDF. PDF on the other hand is so popular that most computers now have a PDF reader installed, thus if you want to share your content with others, PDF is the choice. However, the default DjVu viewer won't allow converting to the PDF format, thus a third party program has to be installed in order to do the conversion. Flippagemaker is just such program. You can use the batch convert mode, hot directories mode, or command-line mode basic on specific need.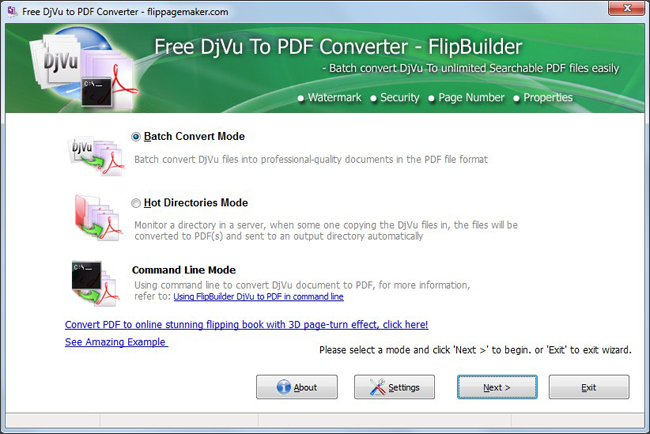 Why Flippagemaker Free DjVu to PDF
Couldn't be More Easier to Use
Convert DjVu (.djvu) into PDF files with simple steps. When the freeware is launched, you should choose a conversion mode at first. And then process the conversion step by step easily.
Convert a Batch of DjVu
You can convert a batch of DjVu documents at once. Collect all the DjVu documents into a folder and add this folder for conversion directly. Batch convert mode would be much helpful when you need to convert a large amount of DjVu files quickly.
Convert With Command Line
Flippagemaker Free DjVu to PDF can be used as a Windows console utility that silently converts DjVu (.djvu) to the PDF file with simple command lines. You can refer to the example we provide by clicking the hyperlink.
Watch Folder and Convert Automatically
Choose Hot Directories Mode, set Input Directory, Out Directory, and Log File Path. Click Start button to start up the conversion. Copy and paste .djvu file into Input Directory, the software will convert automatically. You can find exported PDF file in Out Directory in seconds. To know about the log information, please refer to Log File path.
Retain Original Content Accurately
You may be amazed at the results you get from the free converter. It retains all original content accurately. It also separates table from text and table successfully.
Full Setting Options for Output PDF
Common page settings such as Watermark, Security, and Page Number can be customized for PDF file. If necessary, edit the Meta data for output PDF too. To provide a comfortable interface, you can set the layout and default PDF viewer. In addition, if you are used to use the batch convert mode, you can just set batch convert mode as the default mode to start up the converter.
Save Money and Time
Absolutely, Free DjVu to PDF converter will not cost you any penny. What's more, it can exactly save time to convert a batch of files at once in a few minutes.
Free DjVu Browser Plug-in
If there is not DjVu browser plug-in installed in your computer, you need to download and install one before the conversion. The Flippagemaker Free DjVu to PDF will remind you to install it and provide download address.
Screenshot of Batch Convert Mode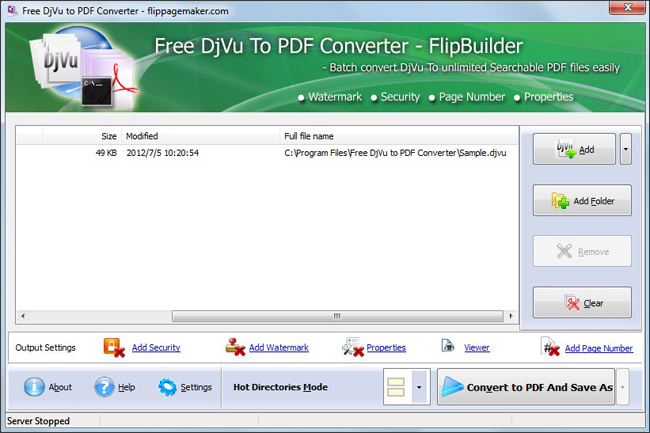 Screenshot of Hot Directories Mode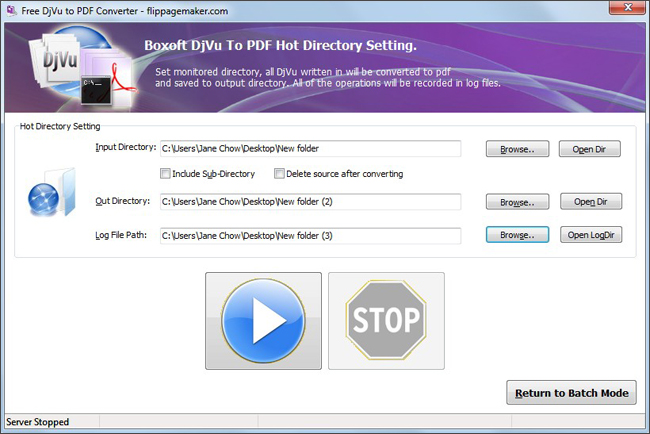 Related Products
FlipBook Creator Professional for MAC