Choose output type from ZIP, EXE and HTML for proper usage?
After you click button , you can access to the below "Output Option" window: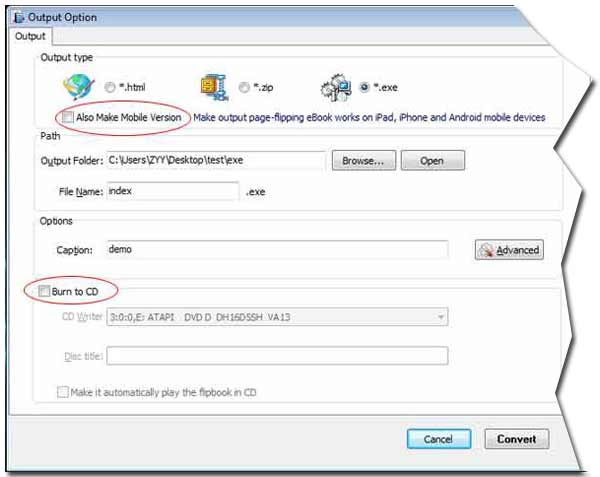 When should you check HTML, ZIP or EXE. Iet me introduce more detailed.
1 *.html:

After converted a PDF flipbook in use of output option "html", you can obtain those files a folder named "files", a swf file named "book.swf" and a webpage file named "index.html". "files", "book.swf" and "index.html" are in the same folder just now you defined a folder for example you named it "myphotoflipbook_output_folder". In one word, you put these three in a folder named "myphotoflipbook_output_folder". The three must in the same directory because they have a relative path. Once you move one of those file to another folder, you destroy the path. So the "index.html" can't load the "book.swf" and the folder "files" correctly. That is to say it can't find the "book.swf" and "files". It is the reason why the index.html can't work when you move it to another folder.

If you want to upload it to you website, you could refers to this FAQ: http://www.flippagemaker.com/faq/how-to-publish-pdf-flash-flipping-page-book-online.html. Notice that you shouldn't destroy the files relative path among them.
2 *.zip:

Once you choose this output form. You can get a benefit that sending the zip compressed package file by Mailbox easily. You know, usally we would attach some file in email. Encounter big files we always compress it as a zip file. *.zip form packages "files, book.swf and index.html" as a compressed file which provides convenience to share with firend by email.
3 *.exe:

It exists in the form of executive file. Always our antivirus software defenses it because its format is exe. We wouldn't directly email such sufix EXE file and we always run it on local PC, if you want to share it with firend, maybe you should compressed it with RAR software and then email the package file to your friends.