Guideline for define flipbook page shade by Flash Flipbook Software.
With the digital industry development, people have paid more attention on the display effect of digital publication. They want the digital book have more realistic effect. But how to make flash publication more realistic and attractive, the key is control the page shadow.
Here are the ways in FlipBook Creator for you to set the flash book page shadow:
Step1: Launch Our Powerful FlipBook Creator software, import PDF from your computer for conversion;

Step2: Choice a template from Templates box

Step3: Find out "Page Shadow" on Design Setting panel (Design Setting -> Flash Display Settings -> Page Shadow), set proportions for Left page shadow, Right page shadow and Page Shadow Opacity.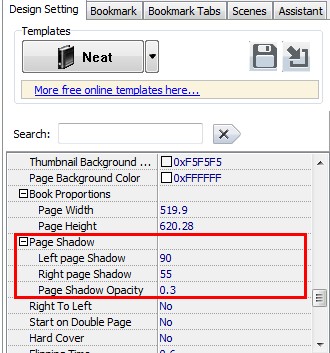 At last, click "Apply Change" button to refresh flash flipbook.