Can I use Digital Brochure Maker to change inner and outer background image of flipbook?
Question:
I got a problem with Digital Brochure Maker, I want have two background image displays in my created flipbook – the inner image and outer image. So that I could use advertise photo as outer and inner background image or redesign the flipbook present interface.
Answer:
Hello, you may use our flipbook software such as FlipBook Creator to change the inner and outer background image.
Here are simple steps in detail:

Step1: Open FlipBook Creator application, start a new flipbook project;

Step2: Choice Float template from template box, import PDF from Local PC for conversion;


Step3: Find out "Background" bar in "Design Setting" panel (Design Setting -> Flash Display Settings -> Background Config -> Background)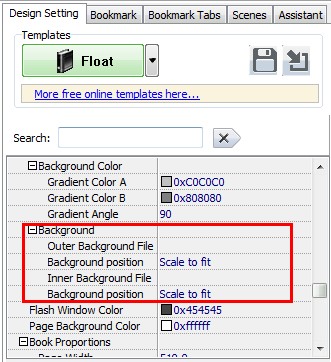 Step4: import photo in "Out Background File" and "Inner Background File", you can also define the background position in flipbook.

Step5: Click "Apply change" to refresh design settings, then you will see the background both inner and outer has been changed.