The best comprehensive Flipbooks sharing methods
How many methods do you use to share your flipbook with others? Have you ever thought about it? If not or you have known just a little, you might like the below list.
Come on! Let's make a statistics about sharing forms Flippagemaker.com support.
1 Publish online (all the online users can easily visit your site to read):
If you have own website, you can upload the flipbooks by FTP uploading tools (such as FileZilla). Of course, I mean the output type *.html. First you must upload all the files (a folder named "files", a flash file named book.swf and an html file named index.html) to the same directory in your server.

If your domain is www.mydomain.com and you put all above files into one folder under root named myflipbook. After uploaded them to server, once you want to browse it you should enter this link: www.mydomain.com/myflipbook in the address field on browser.
2 Email flipbook URL or as attachments:
<1> First you should click Tab "Design Setting" and then select "Tool Bar-->hare Button". Switch "Share Button" to "Show" status. Enter title into form "Email Subject" and current flipbook URL address in "Email Body".  When somebody browse you book, they can click button "Share" to open the Microsoft Office Outlook to send the FlipBook's information or URL to others. Of course also you can hide the button "Share".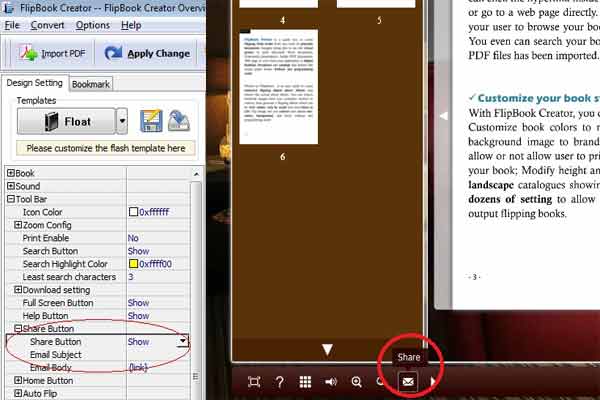 <2> After design a flipbook, you could begin to convert to flash flipbook. Click "Convert To Flipping Book", and then check "*.zip". At the same time, select output folder. At last click "Convert".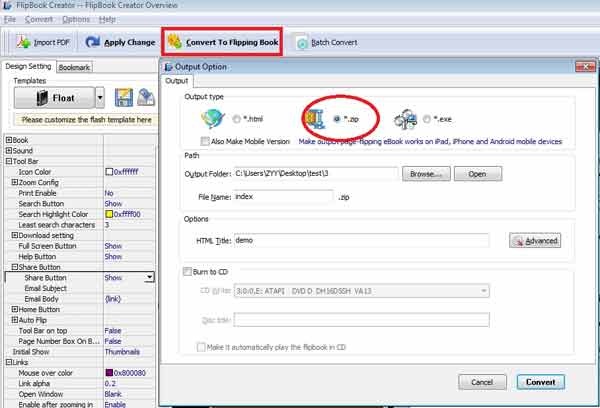 Attach the output zip format file as an enclosure to send to others. After your friends received it, they should firstly uncompress and open the html or flash file to read your FlipBook.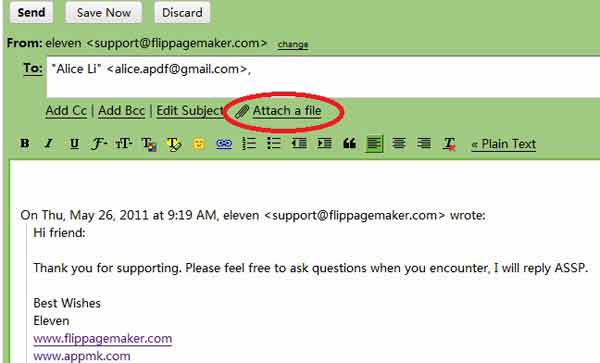 3 Share with iPhone, iPad, iPod Touch, Android-powered devices users
It's easy to realize. Only you check the "Also Make Mobile Version" after click "Convert To Flipping Book".
After converted, you can upload the output files onto your website server so that any smartphone readers can browse your flash flipbook.
4 Burn to CD:
You can check one from "*.html", "*.zip" and "*.exe" and then check "Burn to CD", finally start to convert. Whatever you can transmit the CDs to your friends. If you check "Make it automatically play the flipbook in CD", you can enable it auto play when it in CD player.

5 Convert flipbook to output type "*.exe" (if your computer haven't flash plug-in, it is very necessary)
Please note it is absolutely not virus, although always your Antivirus pop up virus prompt message. Please do not kill it. Just open it as an executive program to read it. Also you can compress it to email as an attachment.
All right, I have integrated 5 sharing methods. Do you have any other constructive suggestions? I will be very grateful if you can send me more attractive sharing method.
My Gmail: elevenasus@gmail.com. Welcome to your reply.