Save current settings of page flip catalog template for future repeating use?
The current style will disappear if you replace it with other type template. We all do not hope the fruit of our labor ruin. For example, we take pains to design a wonderful templates for flash flipping book, but to your upset, after change it with other type template, you miss the previous settings. How to save the flipbook settings for future use and get rid of losing current design? One solution is save current template settings as a text file. When you need it you can directly import it.

Step1: Launch FlipBook Creator (Pro).
Step2: Edit current template with the tools in the tab "Design Setting".
Step3: Click the button "Save" to save current all the settings as a TXT file in local disk.

By now, we have saved all the settings about the current template. When you need it always depends on your special requirement. The template settings such as the whole gradient color, background music, auto flip, hard cover, tool bar, etc all of these settings are organized as a whole. Just export the decent settings your own designed and then import it when you need it again.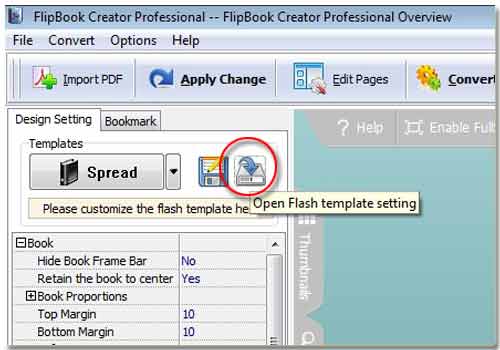 I guess this function provide enough liberty for users because they can apply the same settings to the similar style flash flipping book without repeat design. It must be a shortcut that can save time and workload, even improve work efficiency. Not only that, you can use the settings txt file in different computer which undoubtedly solve the problem of different place editing. If you are interested, in any case have a try.
Free download FlipBook Creator
Free download FlipBook Creator Professional
Free download Photo to FlipBook