Recommend several kinds of flash flipping book's sharing methods
What do you do with the output flash flipping books produced by FlipBook Creator (Professional)? And what's your purpose of purchasing FlipBook Creator? I think it must be for sharing. You want to share your content in the form of vivid flash flipping eBook online or offline. Nowadays, eBooks are popular on websites all over the world. No matter PC or portable devices such as iPhone, iPad, Android-powered devices, they all enable users to read common books. People also love audio-book (with rich media embedded). if the ebook can hold audio, video, flash, hyperlinks, it must be amazing. For example, you put many separate stories in one book, and desire insert some relevant music or video in every story. Anyway this reading form is really novelty and attractive. And it makes a plain ebook immediately become life-like and vivid. As we all knows, nobody love suffocating and stifling books. Oh I am just getting far from my title because I love this kind flipping book with rich media.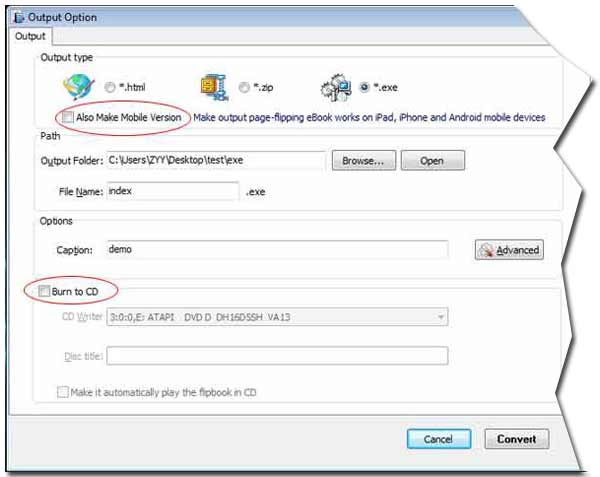 I have finished talking about ebooks' popularity. And now let's sum up how many sharing methods (flipbookmaker.com provides) we can adopt.

1 Email:
FlipBook Creator (Pro) provides three output types: HTML, EXE and ZIP. You can directly check the third "*.ZIP", or compress the previous HTML and then send to others in the form of email attachments. If you want to share exe format, you can add a suffix (because some mail box might recognize falsely and process it as a virus) such as "my_exe_format_flipbook.exe.share", then as an attachment send to others.

After your friend receive the flipbook from you by mail. Only they should do is uncompress it, then double click the "index.html" to view on their browser. If they receive the renamed EXE file, they only should remove the suffix ".share" and then open it directly.

2 CD or other USB (Portable) disk:

Burn the output files (type: html, zip, exe) to CD disk, then distribute to others. The CD corresponds to mobile disk to store flipping books. Also you can transfer the output files into your portable disk in order to share with other computers.

3 Publish Online:

If you desire both mobile and PC users view the book, you can check "Also Make Mobile Version…", and also should check the output type "*.html". After all preparation are made, you can upload all the output files in the same directory on your web server by FTP.

4 Embed in the existed Webpage:

In fact, this is very familiar with the forth sharing method. More details, please refer to this Article: Embed flipbook in the Exiested Webpage.

At the moment, you can view by Phone or PC browser on the premise of entering the correct URL.
Free download FlipBook Creator Professional