Publish a Flipbook to A Facebook Fanpage?
In daily life, everyone owns their own Facebook, Twitter or Google Account to share news in their everyday lives. Although the FlipBook Creator is more like a commercial tool, it still have some properties to be as social share software.
Mainly as the introducted in the YouTube Video, the flipbook can be shared to Facebook Fan Pages in three ways. People can flexibly choose any of the method to share their flipbook to their Facebook account.
Share FlipBook to Facebook by Managing Online Flipbooks:
1. Manage all uploaded flipbooks with your account in FlipBook Creator;
2. Click "Share on Facebook" button under social share.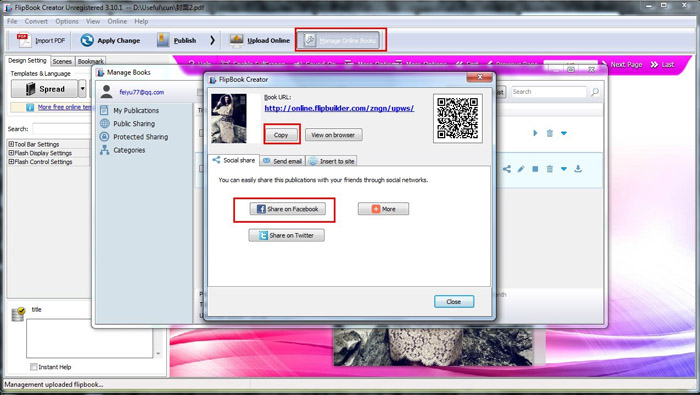 Copy Link of FlipBook to Share on Facebook:
1. Copy the online flipbook URL with copy button;
2. Sign in your Facebook account to paste the URL as a new post.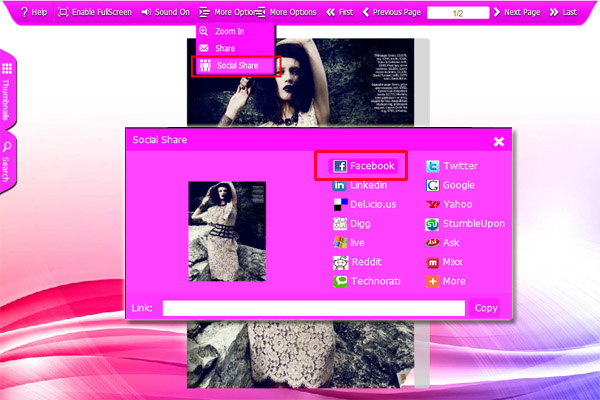 Click Social Share Button to Share FlipBook to Facebook Fan Pages
Two conditions are needed:
1. You have shown and set the social share button of FlipBookin FlipBook Creator when converting PDF to flipbook;
2. You have uploaded the flipbook.
If all conditions are satisfied, you can click social share button to show flipbook to Facebook fanpages.
Free download FlipBook Creator
Free download FlipBook Creator Professional
Free download Photo to FlipBook