Flip Magazine Maker for add password for protect your flipbook?
You can use FlipBook creator to add password to protect your flipbook.

What is FlipBook creator?

FlipBook creator is high security software for you to convert PDF to flash flipbook with stunning page flipping effect. It enables you many ways to brand your flipbook, and protect it from others illegally using. You can add watermark on each flash page, add own logo on flipbook and even set password for protect your flipbook.
How to add password in FlipBook creator?

Step1: Launch Flip PDF program, choose a flash template we offerd, and then import PDF from your computer;

Step2: Find "Security Settings" in Design Settings (Design Setting ->Flash Control Settings->Security Settings). Click the "…" icon to enter into Flash Security Config interface.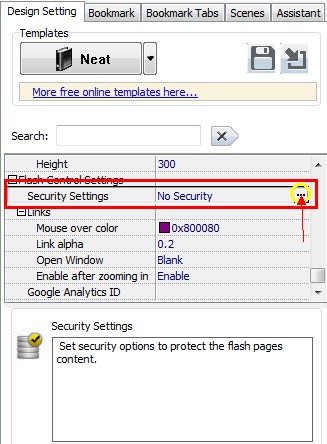 Step3: Add Single Password for your flipbook pages, there are two options for you:
A: Protect All Pages
B: Exclude Front Pages: Ser a page number, all later pages can't be viewed without correct password.
Step4: Click "ok" button, and apply change the flipbook have added password security.