Make word document pages flip horizontally like a book?
Generally we edit ordinary documents with our most familiar software Microsoft Word. Obviously, we all love this brief and powerful tool which can make diverse professional format office files for different uses. But many people prefer to change the word documents' displaying form (scrolling) to for example today topic flipping horizontally like a book. Firstly, you can edit content for bookbinding, then use Word to FlipBook to convert the document to flash flipping book, magazine, brochure, or any else.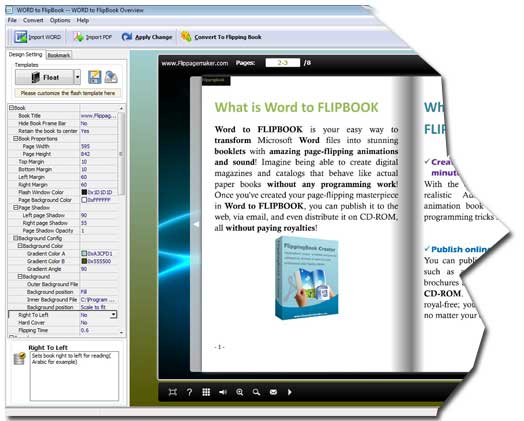 Now that, Word is so common in our life that it is very easy to obtain. That is to say the material of word documents you can find everywhere, anyway if you want to make flipping book from word which mustn't lack material. Below step by step tutorial teach you details about turning word pages horizontally:

1 Import Word document

Click icon "Import WORD" to load a word document to the right preview box.

2 Choose template

In the template area, choose one template to dress the word file.

3 Design Setting

Turn to the tab "Design Setting", to edit current word base on your type.

4 Add Bookmark:

This is optional, you can turn to the tab "Bookmark" to add bookmarks for current flip flash book.

5 Apply Change:

Do not forget clicking button on top menu bar "Apply Change".

6 Convert To Flipping Book:

Finally, after all the editing actions for flash flip book, you should click button "Convert To Flipping Book" to convert the edited word to flash flipping horizontally page flip flash book.

Note: Word to FlipBook support rich sharing methods: online and offline.

1 Online contains uploading to website, view on iPhone, iPad, iPod Touch, Android devices, email flash book online URL, send the output zip package flipbook.

2 Offline: Burn to CD/DVD to distribute, view the exe flash flipping book at local PC, etc.
Free download Word to FlipBook
Free download FlipBook Creator
Free download FlipBook Creator Professional
Free download Photo to FlipBook