Make PDF into the executable flipping (exe) book?
Have you ever thought about reading flipbook immediately without publishing online but installing it directly? Maybe make the PDF into executable file is the best choice for you, if you require uttermost flexibility. EXE (executable file) enables you to read the flipping book without installing other assistant software such as flash. Browse the page flip book like install an executable file.

Only you copy the flipping exe format book into your USB flash drive or other mobile disk, then move to other computer's disk, if the computer have not installed flash, you needn't worry about cannot reading the book for the flipping book can be installed as a executable file which takes little time of you.

Just thanks to the EXE's flexibility, lots of people like convert PDF to this format flipping book. But sometimes it displays not so perfect for some antivirus software will recognize it as a virus if you directly send the exe flipbook to your friends. How to get rid of this awkward situation? Before send this EXE, you should compress it as *.zip. Or you only use it on your own PC and pay no attention to the antivirus software's prompt message. Please do not worry, it absolutely is not virus, a best antivirus may make a mistake. Next, let's close in with how to convert PDF file to EXE (executable file) flipping book.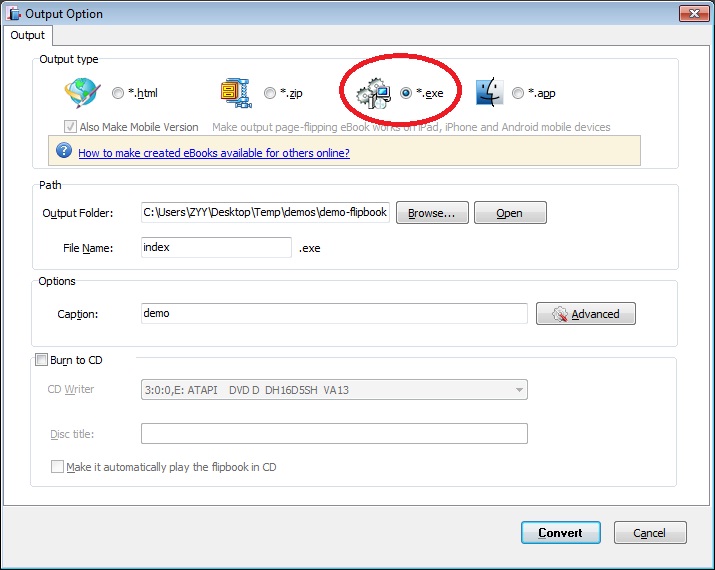 We have described detailed how to design flippage book style and how to create flipping book, so now we directly turn to the last step: click button "Convert To Flipping Book" to access to the interface of "Output Option". Select the last one "*.exe" from the output type option area. Then setup the output folder to hold the output exe file. Finally click button "Convert".
Free Download FlipBook Creator
Free Download FlipBook Creator Professional
Free Download FlipBook Creator for Mac
Free Download FlipBook Creator Professional for Mac
Free Download FlipBook Creator for iPad