Is it possible to host flipbook Bookcase on my own server?
Question: We need to create flip book and embed it into our website. We finally choose your program since for it is really nice. We are interesting in the feature of Bookcase, which help to display all my online books on a bookshelf. Is it possible to publish flipbook Bookcase to my own server? I know how to publish Bookcase online with the help of upload online service. But if so, link of bookcase will show your website domain name. Any ideas please!
Answer: Of course you can. It is easy to do with the help of FlipBook Creator software. You can output Bookcase to locally and then publish all flies to your server via your FTP. The below tutorial will show you the detail steps. Before following, please launch your FlipBook Creator software and prepare for PDF document firstly.
Step1: Click "Create New" to open and import your PDF document;
Step2: Design and custom a distinctive theme for your flipbook;
Step3: Click "Upload Online" service to publish your designed flipbook, after all books uploaded, click "Online->Manage Online Bookcase" to open Bookcase interface;

Step4: You can design your bookcase here and then click "File->Output Locally" to choose HTML option, and then convert to specified path.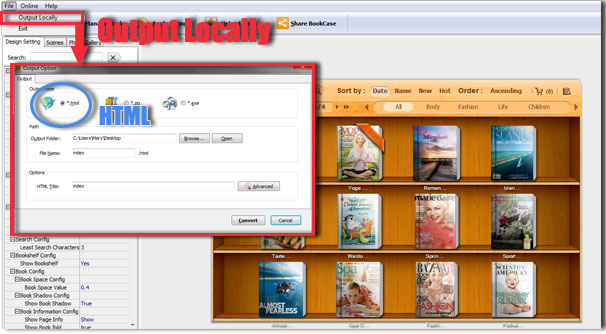 Step5: Then, you can publish bookcase file to your server via FTP.