Introduce the ID from Google Analytics in Flipbook Creator?
Usually we make some presentation, because we are hungry for getting some faithful followers. Recently, PowerPoint has already lose the lead position in online epublications, instead, flipping page presentation has come to the stage.
No matter what purpose you have to make a flipping page book, you can fully use the FlipBook Creator with all kinds of features it have. For an upper and amazing factor is the Analytics from Google, after converting a flipping page book from PDF, you can do little work with the Flash book settings. Which means, you can embed your Google Analytics ID to the flipping page Flash book, and then you will get viewing data of the book from your Google Analytics Account.
Normal Importation and Customization
If you have a saved flipping book project file, you can open it, but if not, you should normally import the PDF and then if you are interested, you can do the modifications to the flipping book under design panel;
Add Google Analytics ID Under Flash Control Panel
In FlipBook Creator, you are making flipping book which based on Flash, so after all settings, you can embed a Google Analytics ID to the Flash to track how many people have seen your book, which page are they most interested, and with all these viewing data, you can do better work with FlipBook Creator!
You shoud click Flash Control Setting, there you can see "Google Analytics ID" Option, then type in your ID number.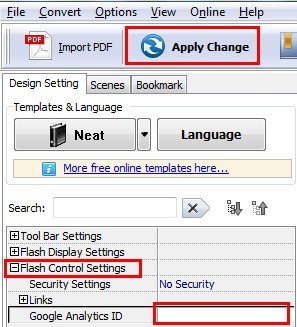 Don't forget pressing "Apply Change" to save your work!
Upload the FlipBook
Two ways for you to upload your flipbook:
1: You can publish the flipbook to local with HTML format and upload all files to your website, then you can view the book with the index file;
2: Upload the flipbook to FlipPageMaker server instead of publish to local.
The importance of Uploading is: Only after uploading, the embedded Google Analytics can work!
Free download FlipBook Creator
Free download FlipBook Creator Professional
Free download Photo to FlipBook