How to get the upgrade information of FlipBook Creator (Pro) for making more perfect catalog?
If you have had FlipBook Creator (Pro), do you know how to upgrade the old one to the newest version? Although, you have ever thought about it because the current flip catalog publisher could help you a lot enough. It is also necessary when the more wholesome FlipBook Creator (Pro) upgrade version comes up. Of course, you want to make perfect digital brochure or online flash catalog, so anyway you wish the catalog publisher (FlipBook Creator Pro) can make progress little by little. You know, upgrade for free and you can get the newest information from the software itself. Easy steps please refer to below: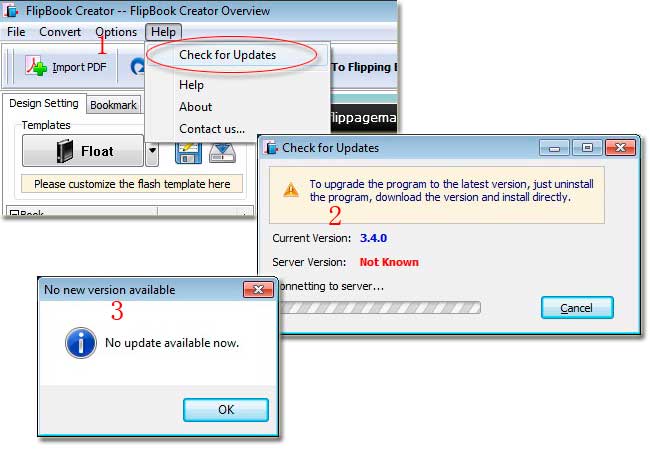 Step1:  Launch FlipBook Creator (Pro).
Step2: Click option "Help --> Check for update".

Just do that like above two steps, you can obtain the current newest version updating. If recently there is no the newest version, you will be given a message prompt window with words like "No update available now". If there is new version, your FlipBook Creator (Pro) will upgrade to the newest version automatically.

This small function must be convenient but some careless people may not find it. If they read this FAQ, I guess they will discover the new way to update without great workload of download from our homepage.
Free download FlipBook Creator
Free download FlipBook Creator Professional
Free download Photo to FlipBook