How to make Thumbnail box shown initially?
You know, FlipBook Creator provides the Thumbnail function that allows readers can view the page thumbnails before reading formally. There is much preponderance that adopt thumbnail. For example, you have the priority which page do you read first by viewing its thumbnail. Before read details, you have enough liberty to select which page belong to the requirement section and which one is no longer enough to pick preferentially. The thumbnail you known shrinks the original flipping catalog page and then become small size that can be listed in the thumbnail window. When click the thumbnail pages, you can quick access to the page and then read.

Next, we come to learn how to setup the thumbnail window initial shown. Which can provides sufficient convenience to your readers. In order to facility your understanding, we first take one template of the type "Spread" for example.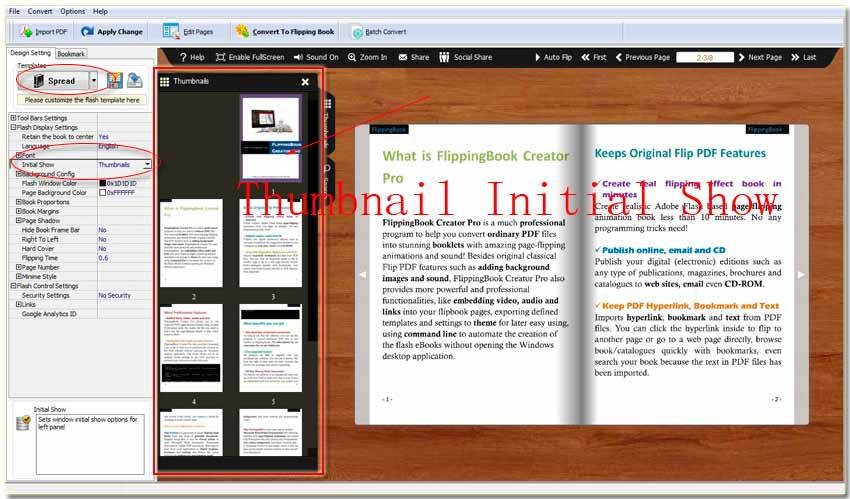 Step1: Go ahead to the tab "Design Setting", and then access to the option "-Flash Display Settings".
Step2: Below the option "+Font", you can view the switch "Initial Show", you can select "Thumbnails" at the following selection window.

Don't forget to click the button "Apply Change" on the top menu line. And then you can preview the output effect on the right preview window. Of course, as you see, you also can setup the window of "Bookmark" as the initial show object base on what you want. Even you can choose neither of them.
Free download FlipBook Creator
Free download FlipBook Creator Professional
Free download Photo to FlipBook