How to print my company logo on the Calendar template?
Calendar theme like you see flip from bottom to top like a calendar. Maybe you have used it several times but still not access to brand module. Read this FAQ and then you will know how to place a beautiful logo on the Calendar flipping book. (It is the best if your logo image is transparent PNG format or SWF flash file which will make your flash flipping book more amazing)

Step1: Start FlipBook Creator and move eyes to the left settings.
Step2: Just find Tool Bars Settings -> Title Bar.
Step3: Import your logo file in the form of The Book Logo.
Step4: Give it a hyperlink in the next form of Logo URL direct others to your website.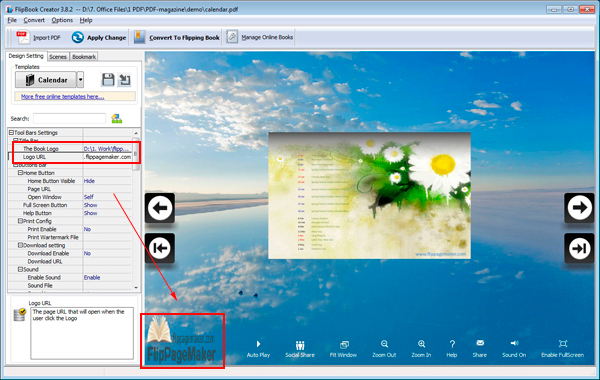 Free download FlipBook Creator
Free download FlipBook Creator Professional
Free download Photo to FlipBook