How to make mobile version flipping book for iPhone, android phone?
Most of time, we don't stay at office. And many people like surf internet with their tablet computer or mobile smart phone such as iPhone, android-powered phone, etc. Besides attractive mini games, a lot of people love reading books online. Maybe you could try to make flipping book and then publish online. Open your browser and then enter the flipping book URl, so that you can flip the eBook on your own phone. You can normally read the flippage book like reading on PC, just the mobile screen is much smaller, but it is portable which bring enough flexibility. Hold out your phone to access the stunning flash flipping book when you place yourself in beautiful scenery, crowed, business trip or grogshop, etc.

The online flipbook would help you kill time when travel. Even you can learn much more from it. Now we have been familiar with flipping books on PC, please don't ignore the aspect of mobile phones. FlipBook Creator enables you to make flipping book online for PC or mobile readers. Let's access to this mobile area: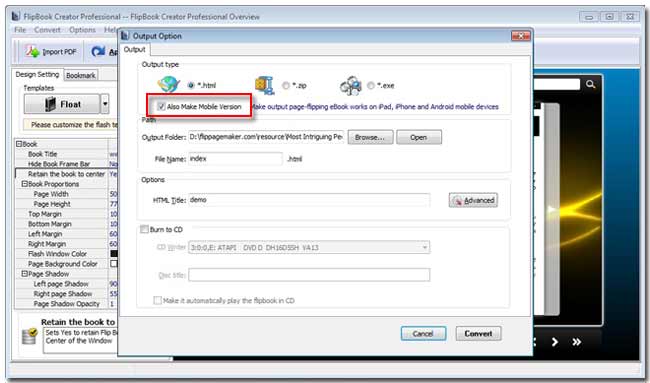 1 Launch FlipBook Creator.
2 Import a PDF file.
3 Select the tab "Design Setting" to design current flippage book style by using the built-in editing tools.
4 Select the tab "Bookmark" to add bookmarks for the current flipping book.
5 Output: Click button on top menu bar "Convert To Flipping Book".
6 Check the checkbox "Also Make Mobile Version".
7 Click button "Convert".

Finally, we turn to the output files. In the output flipping folder, you can see one more folder named "Mobile". Yes it is equipped with all the files which mobile reading required. You should upload all the files in the same server directory in order to browse the flash flip book normally.