How to enable others to print my flip page with my watermark?
Although people print out your pages, they also can't stop your company watermark printed. It would raise the exposure of your publications no end. Now, please prepare an image as the watermark and then open FlipBook Creator.

Step1: Please move your eyes to the left settings refering to Print Config.
Step2: Find the option of Tool Bars Settings -> Buttons Bar -> Print Config -> Print Enable & Print Watermark File.
Step3: Make Print Enable Yes and then load your prepared watermark in the form of Print Watermark File.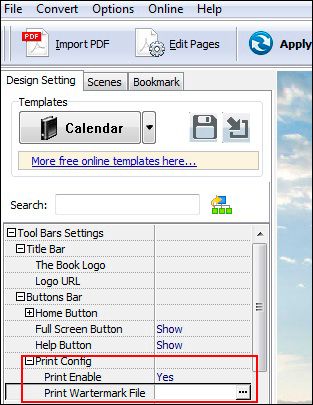 Free download FlipBook Creator
Free download FlipBook Creator Professional
Free download Photo to FlipBook