How to change page turn speed on individual pages
Video Tutorial
In flipping book created by FlipBook Creator software, when you click the Flip button, the page will turn at given speed. And the speed of page turning effect can be changed, you are allowed to modify it when editing the flipbook.
Steps:
Step 1 : Start your flipbook project with FlipBook Creator software.
Step 2 : In design interface, search "flipping time" on Design Setting panel, then modify the time, the bigger number means the lower speed.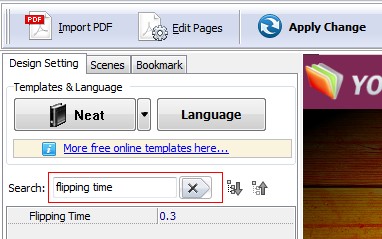 Step 3 : After you decide the speed, click the "Apply change" icon to confirm and apply your setting, then you can preview in software.