Can I change page thickness with Flash Magazine Software?
Question:
If I can define the flip pages thickness, the flipbook will become more realistic. So I wander is there have method for me to change page thickness in FlipBook creator?
Answer:
Yes, with use FlipBook creator, you can design page thickness.
Here are steps in detail:

Step1: Launch FlipBook creator in your computer, and then import PDF file for conversion;

Step2: Choose Neat template from template resource;


Step3: Find the "Pages Thickness" setting on Design Setting Panel (Design Setting -> Flash Display Settings -> Pages thickness);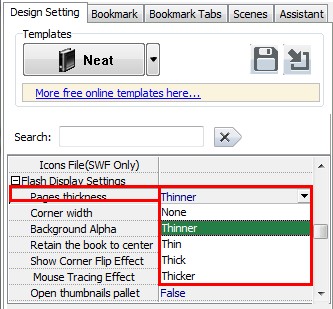 Step4: Choice one of thickness from list, and then click "apply change" button to refresh settings.
Then you will find flip page thickness has been changed.