How can I make my flipbook auto flip with use PDF to Flashbook Software?
Question:
I want add auto flip feature on flipbook, so readers can freely choose flip mode to improve reading experience.
Answer:
Yes, you can easy make your flipbook flip automatically with use FlipBook creator.

Here're steps in detail

Step1: Launch FlipBook creator program, then import Adobe PDF from local disk;

Step2: Choose a template from Template box (Use Float as example);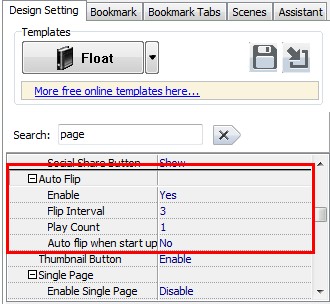 Step3: Find "Auto Flip" bar on Design Setting Panel (Design Setting -> Toolbar Settings -> Buttons Bar ->Auto Flip);

Step4: Set Auto Flip Settings
Enable -> Yes
Flip Interval -> input you want number
Play Count -> input you want flip count number
Auto Flip when start up -> Yes or No for you options;
Step5: Click "apply change" to refresh flipbook, then you can click "auto flip" button to make you flipbook flip automatically.