How to adjust the output quality of flash flipbook?
Base on the difference of different users' emphasis. High visual quality might lead to slowness of loading, and fast loading will cause it low quality, and how to make them balance? FlipBook Creator provides diverse solutions for you. No matter much legible characters, small output size, higher color transfer quality or faster convert speed, you all can find satisfied answer. Which one do you emphasize? And do you want to control the mobile output visible quality? Let's open it to work more effective for you.

Above content come down to "Render Engine". FlipBook Creator provides three render engines they are SWF, GPL Ghostscript and Inner library. (Click "Options--> Application Options") You will view the below illustration: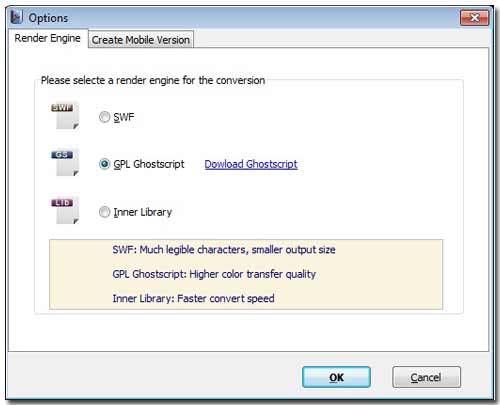 You can choose one base on your requirements. For example, if you need faster convert speed, you can check the third checkbox "Inner Library". Or else, you want to legible characters, you can check "GPL Ghostscript". Which one may you choose, please read below explaination:

SWF: Much Legible characters, smaller output size.
GPL Ghostscript: Higher color transfer quality.
Inner Library: Faster convert speed.
I know there are many users plan to create mobile version flash page flip book for mobile phone readers. So I gonna recommending how to setup the output quality of mobile version. Similarly you should click "Options--> Application Options" on top menu line, then click the tab "Create Mobile Version", finally select one from the selection box as below demonstration.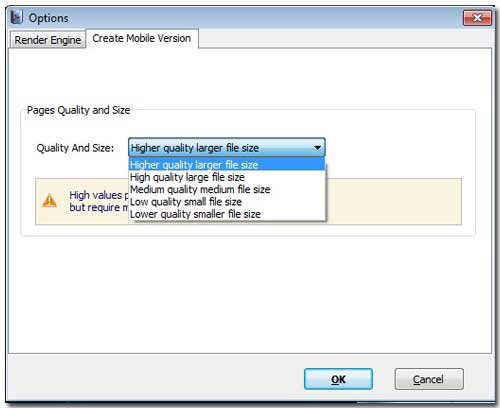 Come here, you just can easily select render engine and mobile version quality. Next you can access to convert our PDF file to Flipping books for PC or mobile devices.
Free download FlipBook Creator