How does the function Download work on Calendar template?
You may not use the Download function on the template Calendar and do not know how. This FAQ will guide you how to start Download which enables others get the file from your flipping book function button. Of course, you should prepare a file to download and then upload it on your website. For example, your host is www.domain.com, under it you create a folder named Download. If the downloading file is cook.pdf, the downloading URL is www.domain.com/Download/cook.pdf. Ok, everything ready!

Step1: Start FlipBook Creator, select Calendar template.
Step2: Go to the option of Tool Bars Settings -> Download setting.
Step3: Make the option Download Enable Yes, and then enter the downloading URL www.domain.com/Download/cook.pdf in the form of Download URL.
Step4: Apply Change.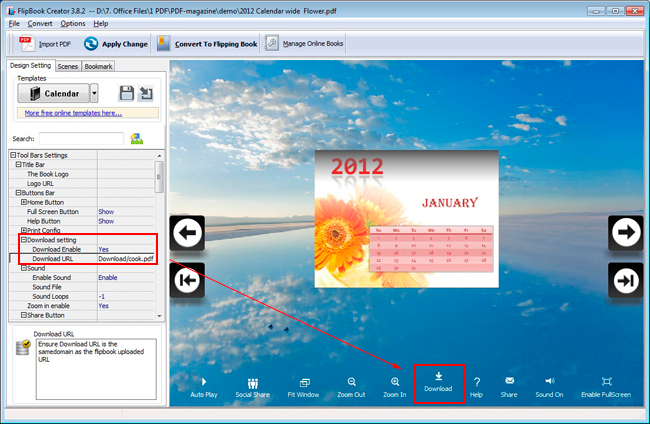 Tip: people can get the cook.pdf by clicking the button listed bottom.
Free download FlipBook Creator Professional