How can I make the flipbook be installed on a CD and have it self-executable whether the host computer is Mac or PC?
Would you like to transfer your flipbook to CD/DVD drive and make it automatically play after people put the CD into PC/Mac drive? This article will describe the detailed steps. For some people who want to share their flipbook offline, the best solution is to burn flipbook onto CD/DVD. Since for CD/DVD is cheap, have large storage space and easily distribute for others. With using FlipBook Creator software, you can directly convert flipbook to CD without outputting to computer in advance.
Before following below steps, please put an empty CD/DVD to your computer:
Step1: download and install FlipBook Creator software, after that, launch it directly;
Step2: Click "Create New" to open and import your PDF file;
Step3: Move the left side of flipbook to choose template and theme, or custom a distinctive theme and click "Apply Change" to save all settings;
Step4: Press on "Publish" button to choose one of the output types (online or offline), and then check the option of "Burn to CD" and "Make it automatically play the flipbook in CD".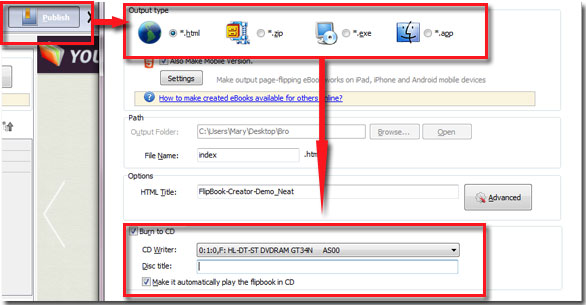 Step5: write a name for the disc, and then click "Convert" to transfer flipbook to CD/DVD.