How can I remove your URL logo in the html of flipbook?
I don't want my users to see "flippagemaker.com" on the finished product.  How do I do that? I received seeking help from my users. This answer is easily given satisfied answer. Because it just can be realized easily within several operations. Yes, you can see our homepage URL on the up-left corner of the output html flipping flash book, of course you can easily replace it with your own website as its provenance. Always you will encounter this situation when you choose the Float type template.

Step1: Launch FlipBook Creator (Pro).
Step2: You could select a template from the template panel. We take the type of Float for example.
Step3: Turn to the left tab "Design Setting", and then access to the options "-Tool Bar Settings --> -Title Bar --> Book Title ".
Step4: Enter your own website of provenance in the afterward form to replace ours.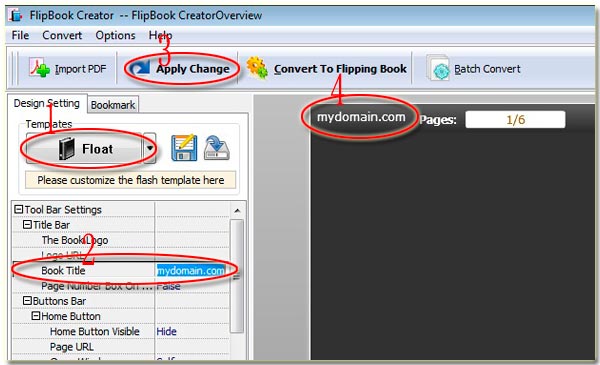 By now we have completed the most, please don't forget to click the top button "Apply Change". After created the HTML flash flipping book, you can see your own logo URL on the top-left corner. It looks cool, doesn't it?

Note: before click "Apply Change", you should move mouse to click other area, anyhow it could be a bug which doesn't affect the whole application.
Free download FlipBook Creator
Free download FlipBook Creator Professional
Free download Photo to FlipBook