Which book existing forms (zip, exe, CD, webpage file) do you require?
You know FlippingBook Creator provides you 5 options: *.html, *.zip, *.exe, burning to CD and Mobile version.   *zip, *exe and Burn to CD provide ease and convenience to transmit, email,  carry. But our ultimate purpose is publishing online for PC or Mobile-device Readers. If you want your Mobile eBook readers can browse your PDF Flipping flash book on your site, please check the checkbox "Also Make Mobile Version".  More details please click

to access to below window: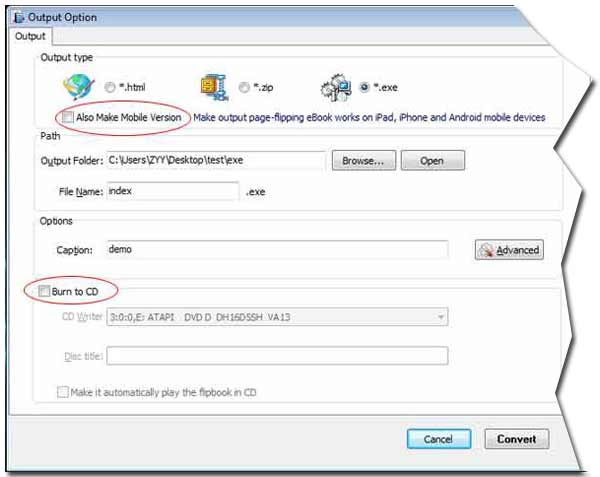 1 Check html:
The output folder contains a folder named "files", a flash file named "book.swf" and "index.html".
2 Check zip:
only you can see a .zip package file which compressed a folder named "files", a flash file named book.swf and index.html. You can transmit, email to your friends.
3 Check exe:
An executable flash PDF eBook with suffix "exe" will be there. It is very convenient to view on different PC without browser, reader, or any software.
Note: Check one from "*.html", "*.zip" and "*.exe", and then check "Also Make Mobile Version" or "Burn to CD", finally click "Convert". Base on need to create diverse forms eBook for diffrent usage or reason.