Can I set the PDF catalog flipping page quality before import it?
People who have used FlipBook Creator know that it support control the flipping page quality. I guess although they know this but they can't use it reasonably. Today we get approach to talk this problem over. First before plan to build a flipping digital product catalog, you should import PDF. Yes click the icon "Import PDF" on the top menu line. And then access to the interface of import PDF. At the middle area, you will view the selection window of Quality And Size. It is our subject to research.

There are 5 options in the selection box. They are "Higher quality larger file size", "High quality large file size", "Medium quality medium file size", "Low quality small file size" and "Lower quality smaller files". These five ranks are relevant with file size and its quality. Of course, in our opinion, the higher quality is relevant with much larger size. And I must ask a question that do you think which one is suitable for your PDF? It must depend on the reality or the practical situation. That is to say, what's the requirement on the output flipping product catalog you have? Or what size do you need? For example, if you just need a small flipping book, thus you have no need to select the high quality and large size. In fact, the lower quality and smaller size can meet your needs. Anyway, if you require high quality and high definition, at that time, you should consider the option of high quality.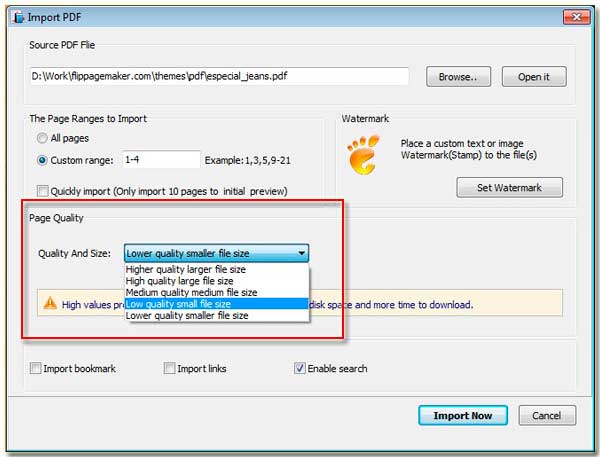 If you master this skill, you never estimate it wrongly. You can apply the right quality and size to the PDF for the output flipping effect.
The theme Legend provides you 5 different styles of templates assist you to quick create flipping flash product catalog, brochure, magazine, eBook, comic, etc within few minutes without much design workload. They must be your capable assistant to allow you have much more selections to choose. Mysterious and stunning templates display appealing sunshine to you and your readers. It is suitable to adorn product catalog, virtual flipping book, and magazine which will make it unique different from others electronic publications. The function buttons contain full screen,  help, sound on/off, zoom in/out, share, social share, Auto flip, Search, Thumbnail, etc meeting all your basic requirements.

Harmony colors and the top menu tool bar cooperate to make your flipping digital publications look professional and attractive without any exaggerating.
Free download FlipBook Creator
Free download FlipBook Creator Professional
Free download Photo to FlipBook