Can I hide the help icon of flipping digital product catalog?
Whether do you notice the icon help on the menu tool bar? Some people suppose it not affect the whole flipping catalog, so they let it go uncheckly. In fact, most of time, we convinced this small function can provide some help for those readers who have no idea how to run the current flipping catalog. Of course, we do not rule those people out because definitely they do not know how to flip or zoom in/out. At this time, you would find it is requirement. At least, to the beginner, it gives some prompt message.

Some need the icon help, simultaneously another do not need. Anyway, we should meet the both sides' requirements. To the point, let's learn how to hide it. That you can absolutely control it show or hide.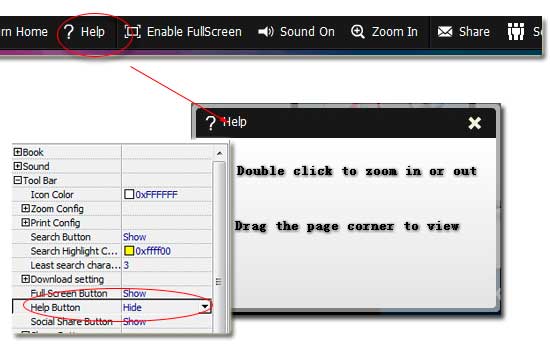 Step1: Launch FlipBook Creator.
Step2: Turn to the left tab "Design Setting".
Step3: Access to the option "+Tool Bar --> Help Button", switch it from "Hide" to "Show" or inversely.

By then, we should click the top button "Apply Change", otherwise all above operations are invalid. Come here, you should check the preview digital catalog's tool bar to view there is an icon "Help" or not. If you show it on the toolbar, click it, and then you can view the prompt information like below illustration shown.
Free download FlipBook Creator
Free download FlipBook Creator Professional
Free download Photo to FlipBook