Add Bookmark to Flipbook on Windows?
When you are reading a book, maybe you cannot finish reading in one time, so you may need to use bookmark while reading; For the online book, it is more convenient to make bookmark. But what I am now explain is the bookmark in flipbooks on windows. It is a mark for several pages in the flipbook which is set by the book maker and also to be regarded as an efficient guide of viewing flipbooks.
Actually, in FlipBook Creator, there are automatical thumbnail which is screeshots of every page in the flipbook, and it is convenient for readers to know the content of the whole book. But what if you have a hundred pages flipbook? I guess the Image would not be that convenient for leading readers any longer, so you may need to add bookmark to your flipbook on Windows.
Step1: Import PDF files.
If the PDF has its own bookmark you can just import the bookmark with the PDF meanwhile, if not, you may need to add bookmark to the flipbook on Windows in the main interface.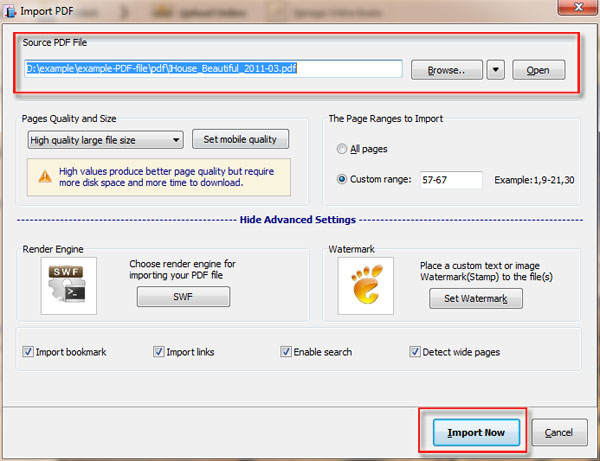 Step 2: Add Bookmarks with Levels
Click Add button under Bookmark interface, and every bookmark can be customized with the title and page numbers with a certain right mark to save. Moreover, you can make bookmark with levels to better lead readers to view the flipbook you are converting.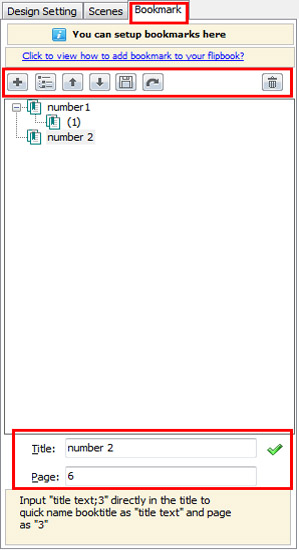 Step 3: Apply Change and Press Bookmark Button to view Flipbook
Everytime you are revising features for your flipbook in the FlipBook Creator, you should press Apply Change to save setting so you can see the effect of your every effort.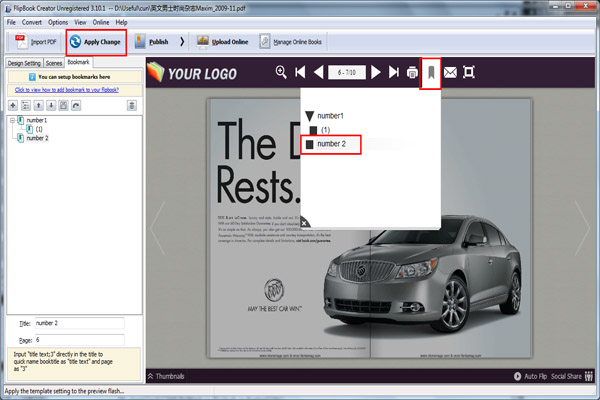 Step 4: Publish to PC or Upload to Flippagemaker Server
You can get the flipbook on Windows in your PC or publish to Flippagemaker server for publicizing,
Free download FlipBook Creator
Free download FlipBook Creator Professional
Free download Photo to FlipBook